Planning on going to Iran? Worried about getting an Iranian Visa? Don't be!
Rated amoungst the "Top Ten Most Attractive Countries in the World," Iran welcomes millions of tourists every year. Visitors from all over the world can travel to Iran and experience the joy of travelling through 7000 years of history, whilst experiencing four different seasons throughout their trip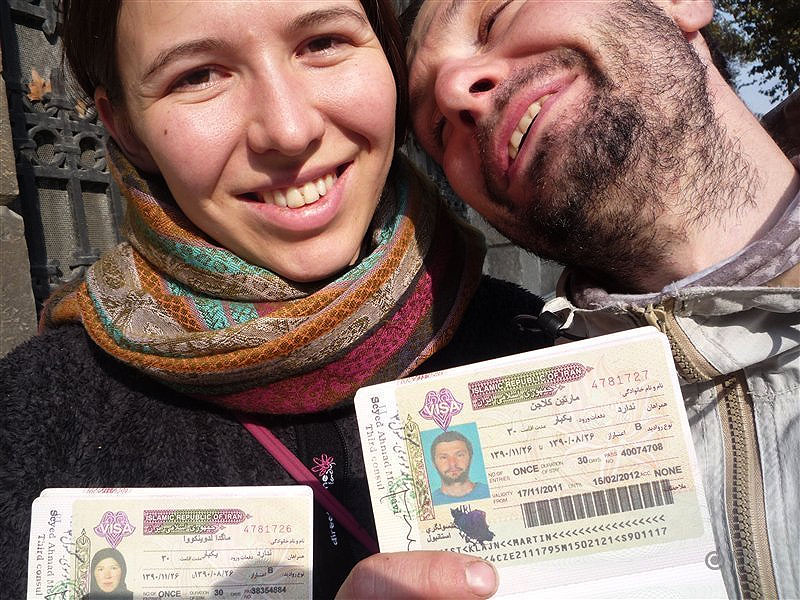 If you're considering traveling to Iran for tourist purposes you have the option on receiving your Iran visa on arrival if you arrive at the one of the following international airports:
Imam Khomeini International Airport (40 km from Tehran)
Mehrabad International Airport (Tehran)
Isfahan International Airport (Isfahan)
Shiraz International Airport (Shiraz)
Mashhad International Airport  (Mashhad)
Tabriz international Airport (Tabriz)
Iran visa on arrival extended to 30 days (2015)
Visas issued on arrival in Iran for tourists visiting the country are now valid for 30 days, said the director of the Cultural Heritage, Handicrafts and Tourism Organization.
Masoud Soltanifar further said, "So far, visas issued for foreign tourists at airports were valid for only 14 days."He also said, "Up to a dozen new four- and five-star hotels are expected to become operational by March 2016 to accommodate foreign visitors."
The conditions for receiving Iran visa on arrival are:
Your need to have to have a valid passport with at least 6 month validation.
Travelers who have been rejected an Iran visa previously will not receive Iran visa on arrival
Journalists and reporters on mission.
Iranian nationals holding other nationality passports.
Necessary documents for receiving Iran visa on arrival:
Passport with at least 6 months validity.
Fee of 50 euros. Extra fee of 10 euro per person which is included in your passport.
An invitation letter from an Iranian travel agency or hotel reservation letter. The invitation letter has to be sent from the Iranian travel agency to Iran ministry of foreign affairs at least 48 hours before your arrival at the airport.
Iran visa on arrival is for tourist purposes only, there for is only issued for ordinary passport holders, diplomatic passport, official passports, etc. cannot apply for this type of visa.
The Iran visa on Arrival is not issues for all nationalities, U.S., Canada, United Kingdom citizens are also not eligible. Please contact us at info@tourguideforiran.com for any further questions on Iran visa on arrival or other questions on Iran travel.
In case your visa is rejected your will be held responsible for return ticket and any other costs.
In the map below you can find the visa type you can apply for: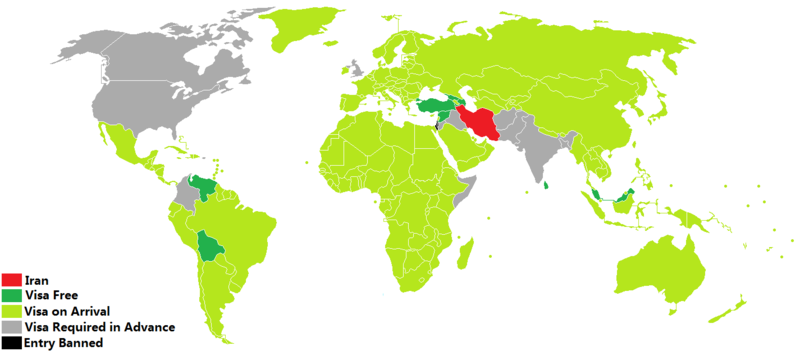 Iran seeks reciprocal visa waiver programs with 28 countries as part of its bid to boost inbound tourism, Director of Iranian Cultural Heritage, Handicrafts and Tourism Organization (ICHTO) Masoud Soltanifar says.
"We have selected 40 countries on the basis of our top priority for attracting tourists, out of which we have sent visa waiver requests to 28 countries and are following the issue through diplomatic channels," he said in Isfahan.
Moreover, the Foreign Ministry has been tasked with establishing electronic tourist visa facility known as e-visa which will lead "to a transformational change enabling everyone to apply for tourist visa from their home", Soltanifar added.
The government has further approved extending stays for visa on arrival from 15 days to 30 days.
"We are after cancelling visa requirements with the countries which provide satisfactory provisions for passage to our citizens," Soltanifar said.