The foreign ministers of Iran and the Czech Republic inked a memorandum of understanding (MoU) in Prague during a visit by the Iranian top diplomat to the eastern European country.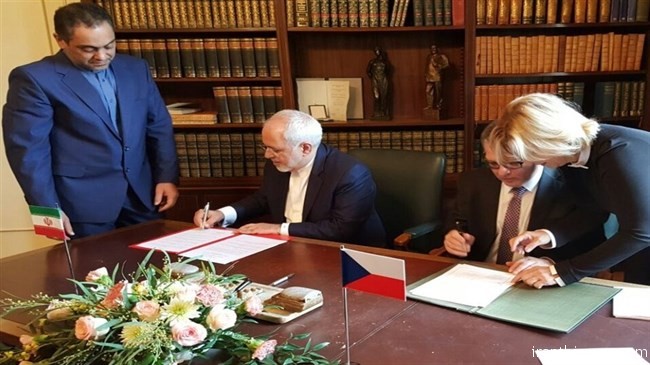 Following a meeting to discuss bilateral ties and regional and international developments, Mohammad Javad Zarif and his Czech counterpart, Lubomir Zaoralek, signed the MoU on holding regular political consultations between the two countries, IRNA reported.
They also held a joint press conference after the meeting.
Zarif told reporters that cooperation between Iran and the Czech Republic and the European Union can be pursued in political, economic and cultural spheres, as well as the fight on terror.
He added that Iran is ready to expand its financial and banking ties with the Czech Republic.
Zarif arrived in Prague on Thursday night as part of a tour of eastern Europe, which earlier took him to Slovakia and Romania.
On Monday, Iranian Foreign Ministry Spokesman Bahram Qassemi said that Tehran and Prague are going to upgrade diplomatic ties to the ambassadorial level.
He added that the charges d'affaires of the two countries have been proposed for the positions of ambassador.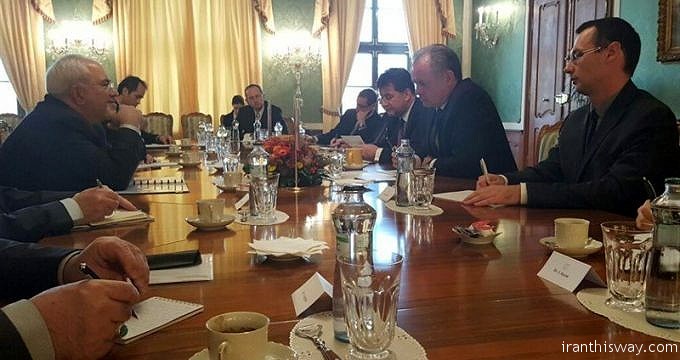 Closer relations with Slovakia
During his visit to Slovakia, the top Iranian diplomat said relations with Slovakia are growing, adding that the two countries should work to pave the way for closer cooperation in various areas, particularly economy.
In a meeting with Slovak President Andrej Kiska in Bratislava on Thursday, Zarif said Iran and Slovakia should provide the necessary grounds for improved bilateral economic cooperation, adding that a large business delegation is accompanying him in his trip to that effect.
Cooperation in the banking sector has already started between Iran and Slovakia, which holds the rotating presidency of the Council of the European Union, Zarif added.
"We have good cooperation and consultations with the European Union on regional and international issues, and the Slovak Republic could serve as a good negotiating side in this sphere," Zarif added.
He also called on the EU to play a more active role in regional issues given the dire humanitarian situation in Syria and Yemen.
Kiska, for his part, praised Iran as a big country and a front runner in the region's economic field.
He expressed his country's eagerness to boost relations with Iran, stressing that Tehran-EU relations are moving on the right path.
The Slovak president further noted that the Islamic Republic plays a key role in efforts to establish security and stability in the troubled Middle East region.
Referring to last year's nuclear agreement between Iran and six world powers, Kiska said the deal showed that diplomacy can lead to great achievements.
Additionally on Thursday, Zarif sat down with his Slovak counterpart, Miroslav Lajcak. During the meeting the two sides discussed political and economic cooperation besides ways to boost bilateral ties.
The foreign ministers of Iran and Slovakia also signed a memorandum of understanding aimed at expansion of political relations between the two countries.