Hundreds of Iranian wrestling enthusiasts and correspondents have extended their friendly welcome to American wrestlers, who arrived in the country to take part in the 2017 Freestyle World Cup in Kermanshah.
The US freestyle wrestling team landed at Shahid Ashrafi Esfahani Airport in the western Iranian city of Kermanshah, located 525 kilometers west of the capital, Tehran, on Monday afternoon and was given a warm reception upon arrival.
The fourteen American athletes, who will be with the team for the two-day-long tournament, include Anthony Ramos and Nahshon Garrett in the 57-kilogram weight category, in addition to Jayson Ness and Logan Stieber in the 61-kilogram section.
Frank Aniello Molinaro will be in action in the 65-kilogram weight division, while James Green and Jordan Micheal Oliver will compete in the 70-kilogram category.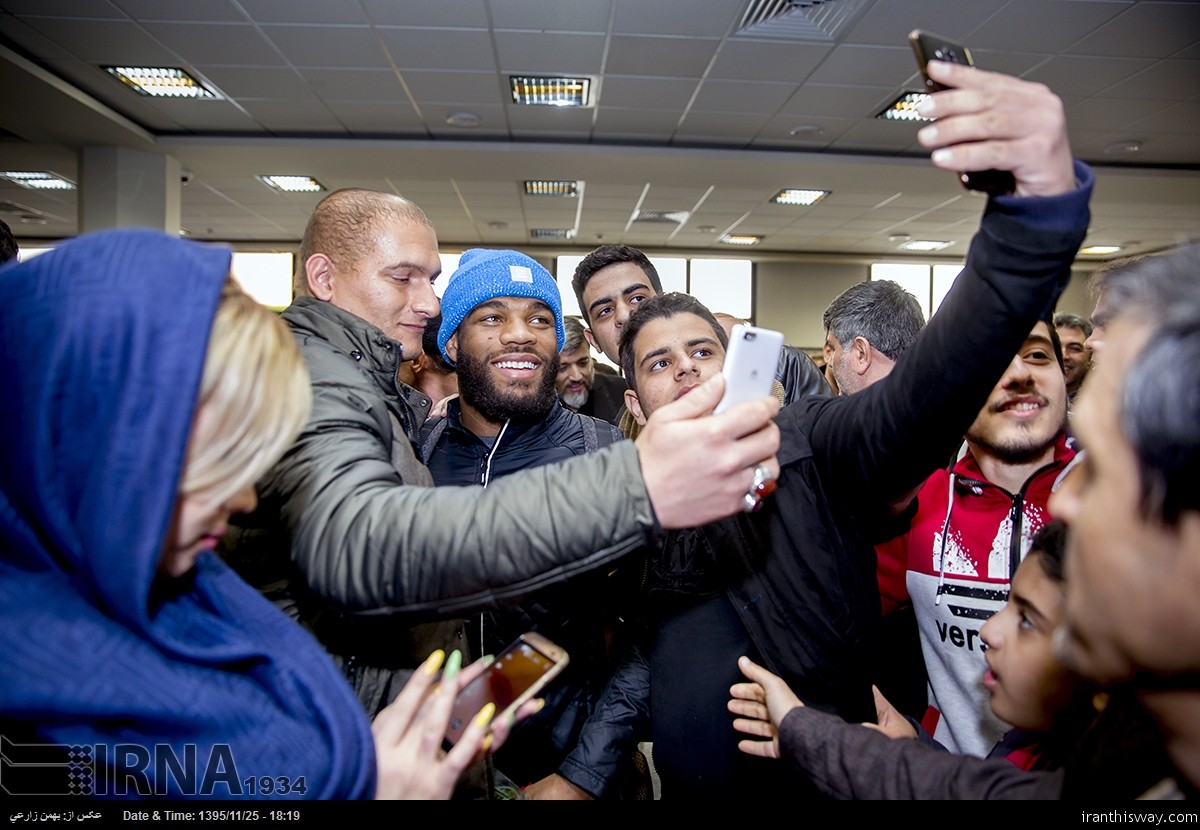 Jordan Ernest Burroughs and Alex Dieringer will take on their opponents in the 74-kilogram weight class, while Richard Perry and David Taylor will wrestle with world-class rivals in the 84-kilogram bouts.
Kyle Frederick Snyder will vie for top honors in the 97-kilogram, and Zach Rey and Nick Gwiazdowski will participate in the 125-kilogram weight division contests.
The American men's freestyle wrestling team is led by William Michael Zadick as the head coach.
Zadick told reporters at Shahid Ashrafi Esfahani Airport that the world's eight best freestyle wrestling teams are coming together in Kermasnshah to bring honor to their countries and claim the world title.
Internationally recognized wrestlers will take to the mat during the Freestyle World Cup; therefore it is rather difficult to clinch a victory in the competition. American wrestlers are fully prepared for the contests and will try to take the championship, he added.
On Monday 5, Iranian Foreign Ministry spokesman Bahram Qassemi announced in a statement that the visa ban against American athletes was dropped following "the halt in the implementation of discriminatory restrictive measures against the entry of Iranian citizens into the US as well as requests by the Iran Wrestling Federation and the president of the United World Wrestling."
"Following the court ruling suspending #MuslimBan & the requests from Iranian Wrestling Federation & FILA, US Wrestlers' visa will be granted," Iranian Foreign Minister Mohammad Javad Zarif tweeted as well.
Earlier, Federal Judge James L. Robart had ordered a temporary and nationwide halt to US President Donald Trump's controversial travel ban on citizens from seven predominately Muslim nations, including Iran.
The 2017 Freestyle World Cup is scheduled to be held at Imam Khomeini Sport Venue in Kermanshah, western Iran, on February 16 and 17.
The Iranian team has been drawn in Pool B along with India, Mongolia and Turkey.
Pool A consists of Azerbaijan, Georgia, Russia and the United States.
The participating teams will wrestle all three rounds of group action on February 16 to determine pool placements.
The teams will cross over to face their counterpart from the opposite pool in a classification contest the next day.