Presidential elections are scheduled to be held in Iran on 19 May 2017. It will be the twelfth presidential election in Iran. Local elections will be held alongside of this election.
Candidates started official campaigns on 21 April 2017 and campaigns ended on 17 May 2017, 1 day before election.
list of presidential candidates
The Iranian Interior Ministry has released the final list of candidates qualified to run in the forthcoming presidential election.
Iran's Interior Ministry on gave the following list of eligible candidates (in alphabetical order) vetted by the Guardian Council.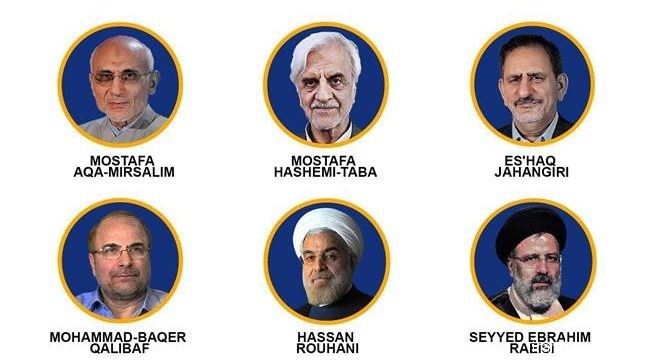 Mostafa Aqa-Mirsalim
Mostafa Hashemi-Taba
Es'haq Jahangiri
Mohammad-Baqer Qalibaf
Seyyed Ebrahim Raeisi
Hassan Rouhani
The vetting body was examining the qualifications of more than 1,600 candidates who registered to run for president for days.