Tehran, Iran is a beautiful city with beautiful views that can captivate and mesmerize you. If you are thinking of taking a trip to explore this beautiful city, then you would be in need of premium accommodation. While there are different choices of accommodations all over the city of Tehran, not all can afford you proper service, functional amenities, affordability, and other perks. This is why we have compiled for you a list of the best Tehran hotels that you can find in this city. With this list to guide you, finding suitable accommodation for your next trip to Tehran should be a breeze. You can book Iran hotels online easily.
Espinas Palace Hotel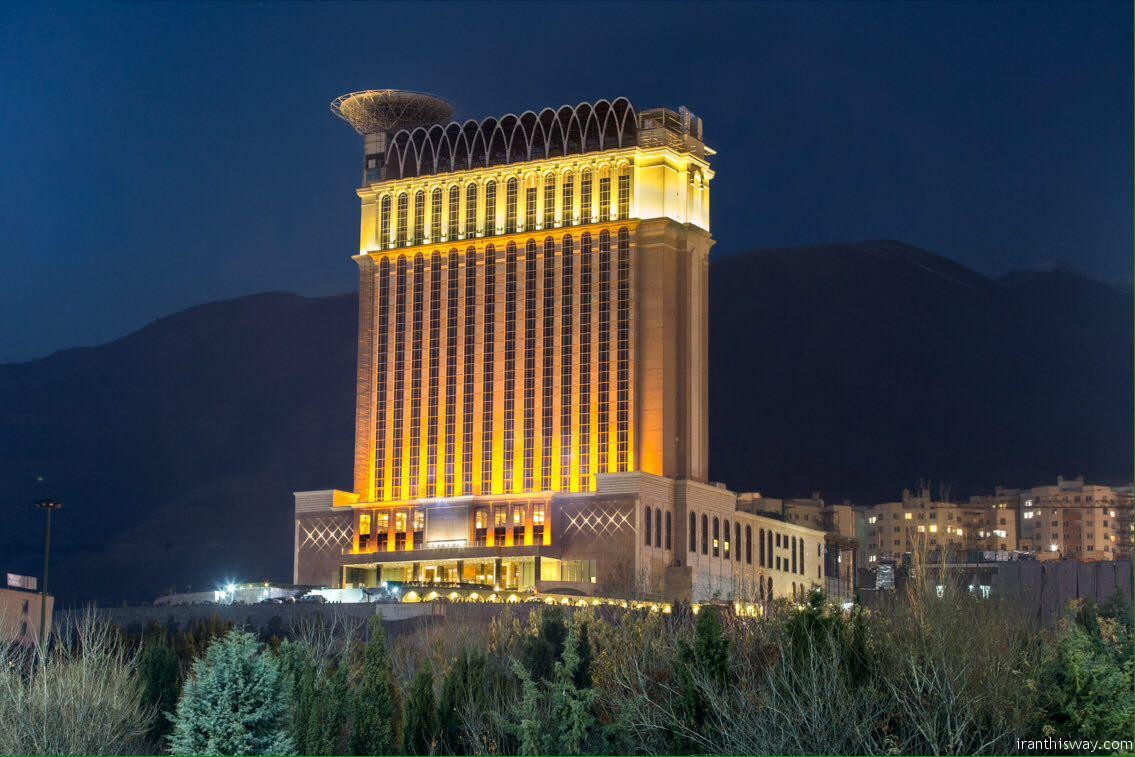 Espinas Palace hotel is a gorgeous 5-star hotel that happens to be located in one of the best areas in Tehran. This area is best for both residential and commercial purposes. It is located in the northern part of Tehran, and the Tehran International Exhibition center lies just a mere 3 kilometers away from the hotel. The Espinas Palace hotel also happens to be just a stone throw away from the amazing Milad-e Noor Shopping Centre. This means that you can easily enjoy a shopping spree at your convenience. This hotel offers a wonderful combination of spirituality and beauty as well as providing you with every modern amenity you can possibly think of.
Espinas Hotel
The Espinas hotel, locally called Espinas hotel Khalije Fars, is beautiful and serene and simply exquisite in its details. Its customer service is among one of the best in the Tehran hospitality industry. Because of the height upon which the building is situated, it promises a most wondrous view. The ambiance is also very welcoming and calming as it is furnished with wonderful music notes coming from the piano in the background. For a chance to enjoy calmness in Tehran, look no further than the Espinas hotel.
Ibis hotel
The Ibis hotel is also known as the Tehran Imam Khomeini International Airport Hotel. This hotel is best suited for frequent travelers who need to be close to the airport. Formerly called the Axis Hotel, it is just a mere 10 minutes away from IKIA which is on the Persian Gulf Highway. Despite its closeness to the airport, it is also not far away from the town itself; just 45 minutes away. With 196 rooms, fully furnished with all of the basic amenities that you would need, it is indeed, the travelers' hotel.
Novotel Hotel
The Novotel hotel is located South of Tehran just opposite the Imam Khomeini International Airport. This exquisite hotel is one of Iran's first airport hotels in cooperation with the French hotel group, Accor hotel group. This hotel is elegantly and tastefully furnished. Providing travelers with every basic modern amenity a hotel should have. The Novotel hotel promises its guests a memorable experience with its uniquely designed rooms, which are both stylish and spacious. The restaurant here delights in serving its guests with a variety of both local and international delicacies.
Tehran Grand Hotel
This luxurious hotel is situated right in the center of Tehran. This hotel is best suited for tourists who would like to explore the city of Tehran exhaustively. This hotel offers access to Tehran's public transportation system as well as other basic modern amenities. The hotel also sports a smoker's lounge where smokers are allowed to relax and unwind. They also have a salon and barbers shop ready and at your convenience. You can also decide to patronize their pastry shop where you can fill yourself with the wonderful tastes and flavors that Tehran has to offer.
Parsian Esteghlal Hotel
This is one of the 22 prestigious Parsian International Hotel chains. The Parsian Esteghlal hotel is one of the 5-star hotels among this fleet of hotels. It is by far the largest hotel in the Parsian International Hotel chain. Located on the longest street in the Middle East, Valiasr Street, the hotel offers an easy access to both the Imam Khomeini International Airport and the Mehrabad Airport. The Tehran International Exhibition Centre is also just a mere 5-kilometer distance away from this luxury hotel. This hotel has a total of 552 rooms, all fully furnishes and equipped with every basic and modern amenity that you need.
Parsian Azadi Hotel
The Parsian Azadi hotel is located in one of the best areas in Tehran and boasts of being just 3 kilometers away from the Tehran International Exhibition center. This elegant hotel boasts of having 475 rooms all fully and adequately furnished and equipped with every basic modern amenity that is required of a hotel of its caliber. It also sports a shopping center which grants you access to a variety of Iranian souvenirs. The hotel also has a fully functional indoor and outdoor restaurant that serves a variety of both local and international cuisines.
Eskan Alvend Hotel
This elegant 4-star hotel was opened in 2014. Situated close to one of the famous squares in Tehran, the Argentine square, this hotel grants you easy access to most of Tehran's attractions and also to its administrative centers. This hotel houses different restaurants that cater to different types of variety of delicacies which the guests can enjoy at their convenience. The hotel also sports a café which serves the most attractive and delicious drinks around. There is also a water complex which houses a steam, sauna, and spa ready for the relaxation of the guests. For a relaxing and easy stay in Tehran, the Eskan Alvend hotel is your best bet.
Borj Sefid Hotel
The Borj Sefid is a 4-star hotel. Situated in the North of Tehran, this hotel offers you the best access to the mountainous terrains of Tehran. With only 15 rooms, this exclusive hotel not only grants you a view of the gorgeous mountains of Tehran, but it also offers ample parking space. An additional view you would absolutely delight in is a view of Tehran itself right from the mountain heights. This hotel houses a wonderful French restaurant and café and a wonderful array of breakfast while enjoying a breath-taking view from the 14th floor of the building.
Homa Hotel
The Homa hotel may as well be the hotel for business travelers. This hotel is situated right in the middle of the northern business district of Tehran. It is also located close to the old parts of the city and is very convenient for travelers who have a fascination for the city's history. These old parts are home to Tehran's museums and palaces. The Homa hotel is proud to house the traditional Iranian restaurants which cater to any kind of taste that you fancy. This hotel has 172 rooms, all fully and tastefully furnished and equipped with all of the necessary basic and modern amenities that hotels have to offer. The hotel is designed with a fusion of continental and Iranian culture and as such brings about a distinguishing ambiance that is second to none.
There you have it, 10 of the best hotels in and around Tehran. From the functional airport hotels suitable for frequent travelers to the exclusive Borj Sedif, which is a classic and suitable for tourists, this list covers hotels for every kind of trip into Tehran. Whatever your preference, you simply cannot go wrong with this list.