Sadeq Hosseini, Farbod Khalili: Nowrouz, the Persian New Year, is by far the most important date in the Persian calendar. The two-week holiday that heralds the spring comes packed with a string of ancient traditions that include family visits of course. That tradition – like many other facets of our lives – was transformed by the unfolding drama of the COVID-19 global outbreak.
Nowrouz under coronavirus lockdown meant no family reunions, no gifts and no dinners, but also meant no parks, no cinemas and no concerts. So Tehran's municipality came up with a brilliant idea to bring some musical joy to Iranian families in quarantine during these hard times; to livestream one concert every single night of the 15-day holiday.
So on Friday April 3, the NowrouzKhaneh campaign was launched. The concerts were live-streamed on 46 different websites and platforms (ipTVs, VODs – Video-on-Demand). They were also streamed live on Instagram.
Before the pandemic closed down businesses and sent everyone home self-quarantining, Milad Tower was one of the main cultural hubs of Tehran, hosting major festivals and holding various other cultural events. So, the venue was rightfully picked to host the online concerts during coronavirus lockdown.
The Milad Tower standing at 435 meters, the world's sixth-tallest tower dominates the capital's skyline.
The online concerts in Coronavirus days on Nowrouz 2020 performed by:
Omid Hajili
Mehdi Jahani
Rouzbeh Bemani
Azeri group of Master Vahid Asadollahi
Reza Yazdani
Rahim Shahriari
Hamid Asgari
Gil and Amard Group, Nasser Vahdati
Mehdi Yaghmaei
Kurdish group Zhavana, Sadollah Nasiri
Hamid Hami
Sina Sarlak
Rastak group
Ali Zandvakili
Lian Bushehr Group
Tehran municipality: Initiative aimed for concert-virgins under quarantine

Mohamad Reza Javadi Yeganeh, Deputy of cultural & social affairs of Tehran municipality said: "Since people could not leave their homes during the New Year holidays, we sat together and came up with the idea of online concerts or concerts in empty halls. The idea was to bring the concerts to people's homes. We also had the concept of fair distribution in mind. Many people in Iran had never been to a concert both due to cultural and economic reasons. Tehran Municipality joined forces with the culture ministry, and Iran Broadcasting (IRIB) [to make this happen] via ipTVs and VODs."
"Bands selected from pop, traditional, folklore genres to appeal to all"
We selected pop, classical and folklore music bands to appeal to all different tastes in Tehran. Given the unknown risks involved, many of the bands were unwilling to participate. The idea of 'a concert without a crowd' was far-fetched to some, director of cultural affairs department in Tehran municipality said.
"Tiva TV broadcast concert signals to over 40 platforms"

Majid Sahaf, channel director of Tiva IPTV about broadcasting the concerts said: "Tiva readily picked up the offer by Tehran Municipality, given its technical capacity and experience in the field. We were required to transmit the signal [of the concerts] to all various platforms and streaming services all around the country. And we made this operational. From the first night on, over 40 different platforms used our services. And this went on for 15 consecutive nights. Most of the people used the easiest mode of access which was through web streaming. Their next choice was applications, android and iOS respectively, and finally smart TVs. Many were doubtful about the internet infrastructure in the country. But we faced no issues in receiving and transmitting the signal. People also had no issues streaming at home. No complaints were recorded in these 15 nights."

Tehran mayor:
Online concerts well received by people
Tehran mayor: Online concerts well received by people

Pirouz Hanachi, Tehran Mayor said: "It's definitely been a positive experience because the world is also following suit. Many famous musicians are performing online these days. I think we set a record [of viewers]. We exceeded the five-million mark in mid-holidays. People well received the concerts."
Gholamhossein Mohammadi an advisor to Tehran's mayor wrote on twitter that:
"A brilliant idea enabled five million people who'd joined the StayHome campaign to fight the spread of coronavirus to watch live the first-ever online concert broadcast from Milad Tower. Tehran's municipality feels compelled to protect the health and wellbeing of citizens."
"Iranians, expats watched online concerts"
Javadi Yeganeh mentions that: "Level of participation was beyond our expectations. Part of this came from Tehran and the rest from outside Tehran and even overseas. The President Rouhani expressed his gratitude."
"Over 30 million unique IPs streamed online concerts"
Director of cultural affairs department in Tehran municipality informed: "According to the numbers we received daily from the association of IPTVs, over 30 million unique IPs watched the concerts in these 15 nights. The biggest achievement of the online concerts was making culture and music accessible to all walks of life in the country during the difficult quarantine days".
But did the concerts truly attract people's attention or was this remark an empty official rhetoric?
"The first time I watched an online concert was about 30 something days into my home quarantine. Although I had kept myself busy with different activities, I was feeling depressed and in low spirits. It was quite a surprising scene; the concert was being held in an empty hall but apart from that it was like a normal concert with the stage and props and things like that. After performing each song, the singer would call up and introduce one of the band members who then would bow to the camera. In normal circumstances, the crowd would applaud him but since the hall was empty, there was no applause, and the artists would only bow to a quiet hall. It was a strange and surreal experience. Nonetheless, the experience felt very real to me. Although I was at home in my PJs and drawing while watching the concert, every time I enjoyed a performance I would clap to it as if I'd actually been there in the concert hall. So it was a really interesting experience."
Fatemeh Tehrani, Tourism Activist
"In these monotonous and boring quarantine days, watching live an hour-long concert by Reza Yazdani was a big surprise for my wife and I. I'm sure its memory will stay with us for years to come."
Mohsen Saemi, Construction Project Manager
"I always thought going to concerts was an expensive activity, and given the inadequate infrastructure, only a few people could experience it, maybe not more than 2% of the population. But when I was watching these online concerts with my family at home, I felt that now with these concerts, many people can experience -at least to some extent- how live concerts really feel."
Seyed Milad Nazemi, Journalist
"In these times while some still haven't grasped the gravity of the situation and think all these safety measures and home-quarantining are nothing but an unnecessary obsession, with others panicking and getting depressed from staying home for long periods, the municipality's introduction of the initiative only shows the gravity of the situation and the halt in normal day activities. On the other hand, it shows it cares about people and has plans for their lockdown days to make them more tolerable."
Mahsa Mousavi, Neurologist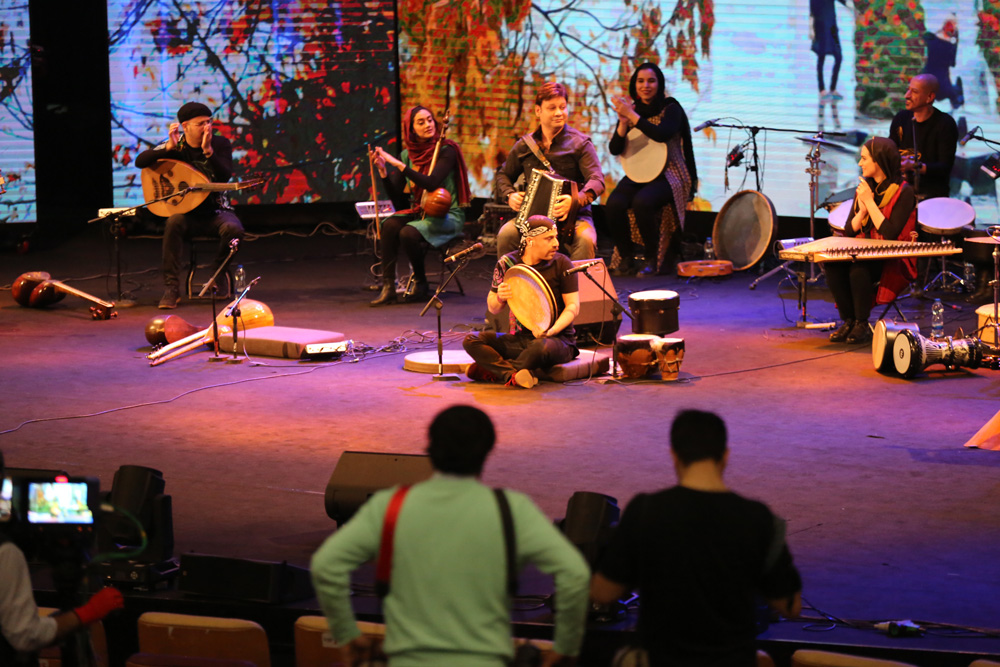 The musicians also welcomed the municipality's initiative:
Rastak Singer: Online concerts in coronavirus lockdown 'innovative idea'
Farzad Moradi, Singer, Rastak Music Band Emphasized: "I think Iranians are culture and art-loving people who enjoy going to concerts; something that has been missing from their lives [as a consequence of the coronavirus lockdown]. We are glad to see the Municipality organize the events despite all limitations. It was an innovative idea. I hope artists can use this platform for as long as the disease is among us. Our performance is audience-oriented. To be honest, we have never had any such experience before, and It was really difficult. During our concerts, given our considerable experience, our main concern is not music but the emotional give and take between us, the musicians, and the audience."
First time experiencing concert in empty hall
Also Sina Sarlak, Singer said: "This is the first time in my whole musical career that I am performing in an empty concert hall."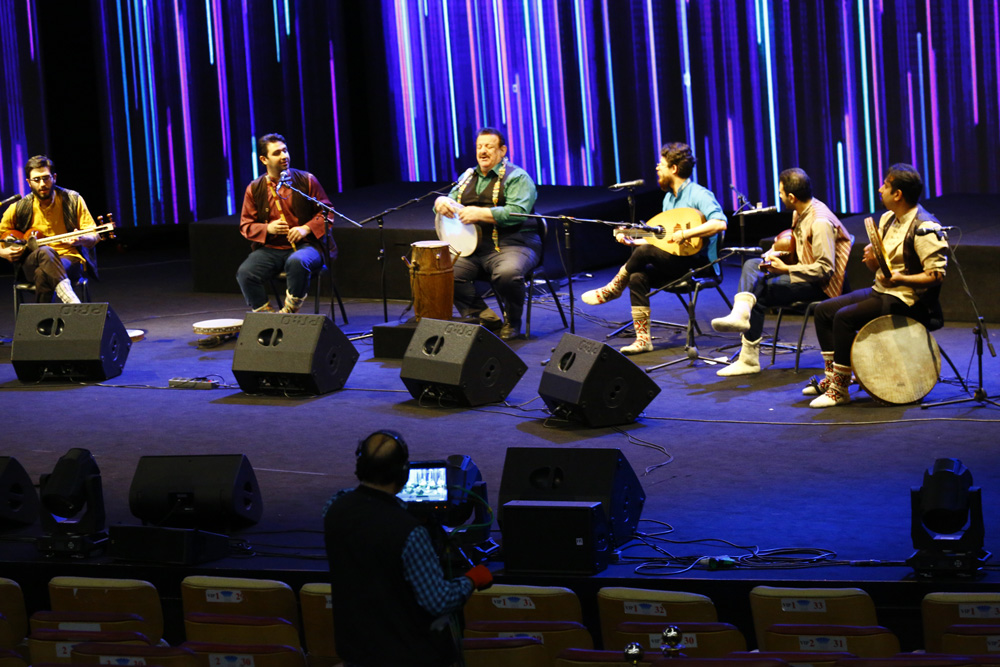 It could be really disappointing to see the concert that you have been counting days for postponed or cancelled altogether.
Both for fans and the artists themselves. That's why musicians of all stripes and sizes from all around the world are taking to social and streaming platforms these days to play live for their fans from their homes or empty venues.
This might be an intuition, or a false hope. But I strongly believe we will ultimately win the fight against COVID-19. The virus, however, is likely to stay among us for quite some time. So for the time being we have to learn to adjust to this new reality of life. This might come with some complications but also with some fortunate by-products like the virtual concerts. In the meantime, keep your safe distance with others and follow health guidelines.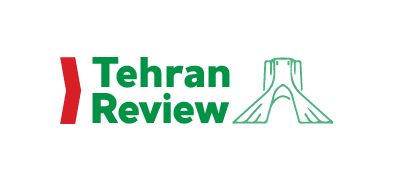 Tehran Review
Episode 1, Online concert during coronavirus
Editor in Chief and Producer: Sadeq Hosseini
Reporter: Farbod Khalili
Cameraman: Saeed Naeeni
Edit: Amirhassan Saadati
Production: Iran This Way
In Cooperate: Shahr news agency and Commutation center of Tehran Municipality
www.shahr.ir
www.tehran.ir
Iranthisway.com