Sebastiaan Straten, Organizer of First Tehran International Persian Run also dubbed TehRUN, expressed hope that the event would cross bridges and break barriers between nations.
The 1st Tehran International Marathon convened in the Iranian capital on Friday 7th of April 2017 with participation of over 350 runners from more than 42 countries. TehRUN 2017 aimed at building bridges and breaking barriers.
The full marathon started at Azadi (Freedom) Stadium, and passed by the iconic Azadi Tower, a prominent structure during rallies in the 1979 Islamic Revolution. Other landmarks along the route included Ferdowsi Square, built in honour of the famous Persian poet, and the Tehran City Theatre along Valiasr Street, one of the longest avenues in the Middle East.
Organizer of the sportive event Sebastiaan Straten issued a press release on Friday the full text of which follows:
Two years ago, I came up with the idea of organizing a marathon in Iran. Mostly because of my experience with street running in Amsterdam and Athens. Running creates a positive energy. It inspires and unites people. The interaction between runners and supporters along the road is unique. So why would this not be possible in Iran…
At the First International Iran Marathon near Persepolis on April 9th 2016, the people of Marvdasht displayed their hospitality towards 150 runners from 30 different countries. They proved that running goes beyond borders. It can cross bridges and break barriers between nations.
After this first successful edition of 'I run Iran' an even more challenging idea came up. Why not organize a second one in Tehran? The idea of the First Tehran International Persian Run also dubbed TehRUN was born. And what would be nicer than to have runners rounding the Azadi monument, proud symbol of 2500 years of Persian culture and history. Supported by thousands of Tehrani along the way. Inspiring street running to a young and dynamic population. A start needs a finish. Also, when the road is unclear and full of obstacles. Organizing a marathon in Iran has proven to be a tedious task. Convincing local authorities, getting permits and local support, promoting the event, runners' registration, international payment limitations, travel assistance, street traffic control, securing the streets, etc. Constrained by a very limited budget, no financial sponsoring, a small taskforce and a challenging political climate.
I run Iran would not be possible without the support of the Iranian Ministry of Sport and Youth Affairs, Tehran Mayor Office, the Amateur Athletic Federation of Iran (IRIAAF), Maral tours, Cultural Heritage and Tourism organization and many others.
Today, 7th of April 2017 at 7 AM (Tehran Local Time) the most international Iran sport event in many years will start. With hundreds of runners from over 42 different countries. Despite all shortcomings of this first TehRUN I hope we can make steps towards a brighter future.
From Start to Finish!
Sebastiaan Straten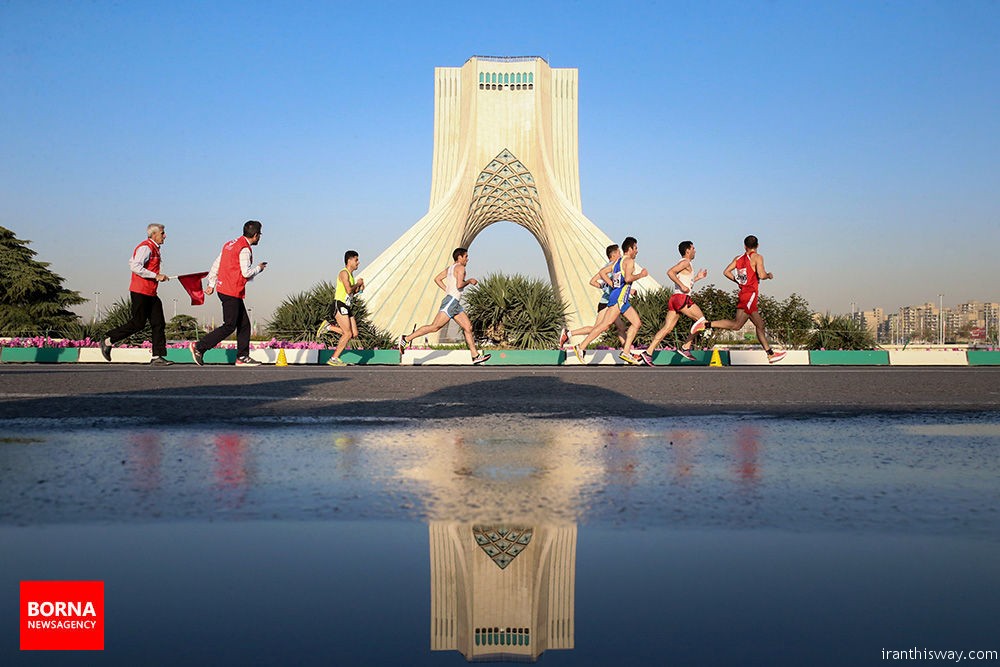 Iranian athlete Moradi crowned in Tehran International Persian Run 2017
Iranian long distance runner Mohammad Jafar Moradi has made use of his athletic skills and steely determination to overcome opponents in the first edition of Tehran International "Persian Run" 2017, and claimed the title at the end of the sporting event.
On Friday, 26-year-old Moradi participated in the full marathon road running competition, and ran an official distance of 42.195 kilometers (26.219 miles) from Azadi Sport Complex in western Tehran, along Karaj Special Road, past Azadi and Enghelab squares and backward.
He sprinted across the finish line to be awarded $3,000.
Moradi was followed by his compatriot Mohammad Faraji, who pocketed pocketed $2,500.
Ehsan Zainivand, also an Iranian participant, was the third finisher and earned $2,000.
Vahid Afrasi, Ahmad Mansouri and Ali Rahmati Monfared were given $1,500, $1,000 and $500 respectively.
Ali Akbar Barzi, the title winner of the half marathon event, got $1,500, while Saber Charkhi received $1,000 as the vice champion of the 21.0975-kilometer-long (13.1094-mile-long) contest. Hassan Shirghavi collected $500 as the third person on podium.
The champion of the 10K run, Hassan Kayhani, was awarded the $1,000 cash prize. The runner-up, Morteza Biranvand, was paid $700, while the third-finisher, Rahim Dibaei, earned $500.
In the women's 10K run, where participants ran over a distance of ten kilometers (6.2 miles), Parisa Arab finished in first place and got $1,000.
A French contestant and Zahra Raeisi from Iran pocketed $700 and $500 as the second and third finishers.