National Iranian Oil Company (NIOC) will sign into three accords with France's Total and Royal Dutch Shell over development of three oil and gas fields of Iran.
Following the signing of an Agreement in Principle (AiP) with France's Total S.A. company on development of South Pars Phase 11, the French firm will seal two more agreements today with NIOC.
One contract to be inked between the two sides today on Wednesday December 07 pertains conducting studies and development of Azadegan joint oilfields.
The accord follows an earlier meeting in December between Iran's Oil Minister Bijan Zanganeh and Chairman and CEO of Total Patrick Pouyanné held on the the sidelines of OPEC summit in Algeria where the two sides mulled over venues to develop South Azadegan oil field.
NIOC and France's Total had also sealed a confidential disclosure agreement in March in order to develop Iran's South Azadegan joint oilfield with Iraq and the French side was required to present its technical bid in six months' time.
Earlier, the Project Director of the Development Project of South Azadegan Seyyed Mahmoud Mar'ashi estimated that the required volume of investment for the project will be less than five billion dollars in order to reach a daily production of 300 to 320 thousand barrels of crude oil.
In the current time, about 50 thousand barrels of crude oil is being extracted from the joint oil field while completion of the first developmental phase will raise the output to 100 thousand barrels per day by the end of the current year.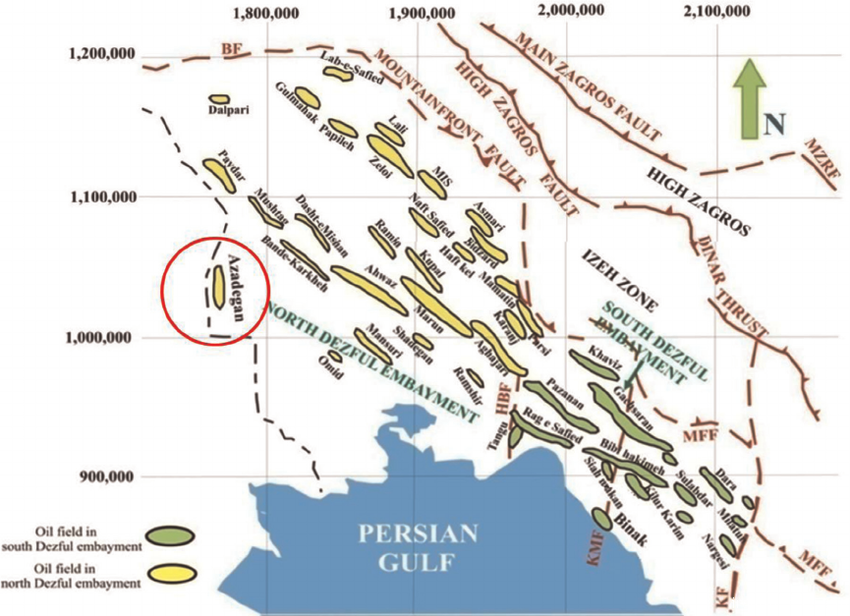 In addition to the deal on Azadegan, another agreement is slated to be signed with Total over expansion of Kish gas field as one of the NIOC Recent Discoveries which was discovered in 2006.
A total of 12 wells have so far been drilled in Kish gas field, which is a giant independent field close to Kish Island in the Persian Gulf, and three developmental phases have been defined to realize five billion cubic feet of gas.
The third contract, however, will be endorsed today between NIOC and Royal Dutch Shell on development of Yadavaran joint oilfield. It remains noteworthy that the first phase of development in the Iranian field has been carried out by Sinopec of China.
With completion of Phase 1 of North Azadegan oilfield, in collaboration with China National Petroleum Corporation International (CNPCI), the production at Yadavaran joint field has also surged to 115 thousand barrels per day as a result of cooperation with Sinopec.
Oil production at the joint oilfield with Iran has currently reached 115 thousand barrels which exceeds the initial commitment made for the first developmental phase by approximately 30 thousand barrels.
Yadavaran oilfield has a reservoir of 17 billion barrels and a potential to produce 300-400 thousand bpd of crude.
Iran's Oil Minister Bijan Zanganeh had previously said the MDP of phase II of North Azadegan and Yadavaran oilfields has been approved by Chinese contractor SINOPEC and China National Petroleum Corporation (CNPC) under an initial contract, adding "Iran is ready to hold multilateral negotiations with Chinese companies within its accepted framework."