Iran signed preliminary agreements with Russia's Gazprom on Tuesday to develop two major oilfields in the latest of a flurry of deals with foreign firms, local media reported.
The deals open the way for Gazprom to carry out studies at the Cheshmekosh and Changouleh fields near the border with Iraq, according to the Shana news agency, which is linked to the Oil Ministry, AFP reported.
That adds to five other oilfields that have already been earmarked for Russian firms Lukoil, Tatneft and Zarubezhneft.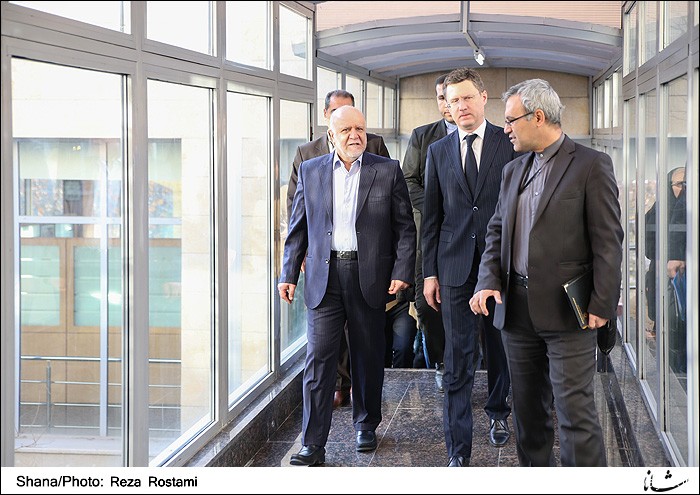 The latest deal was signed by Russian Energy Minister Alexander Novak, who is visiting Tehran with a 590-strong business delegation.
Russia and Iran are keen to deepen their economic relationship.
Iran has announced a slew of energy deals with foreign firms in recent weeks, despite uncertainty around the incoming US administration of Donald Trump, who has vowed to take a more confrontational stance toward Tehran.
Last week, Anglo-Dutch giant Shell signed an initial accord to explore two of Iran's largest oilfields at South Azadegan and Yadavaran, as well as the Kish gas field.
That followed an initial deal with France's Total last month to develop part of the South Pars gas field – a project worth an estimated $4.8 billion.
But doubts persist over how these deals will be financed so long as Iran remains frozen out of the international finance system by continuing US sanctions.
The government has announced that Iran's energy infrastructure urgently needs an infusion of foreign cash, technology and know-how.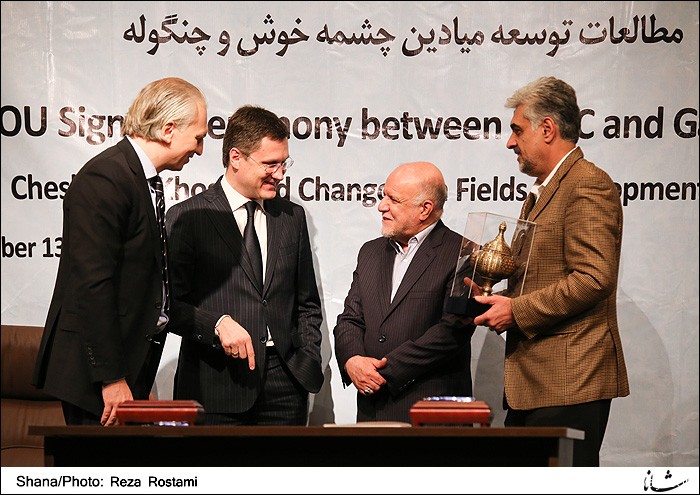 Russia Keen to Participate in Iran's Oil, Gas Projects
Russian Energy Minister Alexander Novak said on Tuesday that Moscow is keen to participate in Iran's oil and gas projects.
He made the remarks in the Iran-Russia trade forum in Tehran.
Iran and Russia will continue cooperation in execution of development projects in the oil and gas sector, the official added.
He said that Iran and Russia will promote cooperation in construction of gas, electric and nuclear power plants.
Iran and Russia are keen to enhance all-out ties, Novak added.
He referred to removal of Islamic Republic's sanctions and said the ground is now ready for Russia's investment in Iran's oil and gas projects.
The two countries enjoy good capacity for promotion of cooperation, Novak added.
He said that the volume of cooperation between the two states is increasing.
Iran and Russia enjoy longstanding cooperation in energy fields and they can work together in fields of construction of nuclear, electric and gas power plants, the minister added.
He said that central banks of Iran and Russia have taken good steps forward resolution of banking problems.
Russia will cooperate with Iran to develop its Bushehr Nuclear Power Plant and electrify its railroads, Novak added.
He said Moscow is ready to sell superjet planes to Iran.
National Iranian Gas Company (NIGC) and Russian Gazprom Neft on Tuesday signed a Memorandum of Understanding (MoU) for cooperation.
Managing Director of the NIGC Hamid-Reza Araqi and Deputy Managing Director of Gazprom Alexander Medvedov signed the deal in the presence of Iran's Minister of Communications Mahmoud Vaezi and Russian energy minister.
The two sides decided to form five working group with regards to the extent of the working fields. The working groups corresponded and held talks on trade of gas, R&D, production and implementation of the joint projects and gas application.
In the meeting, the projects of investment in Iran were outlined and it was announced that Iran is ready to absorb more than 62 billion dollars investment in the NIGC projects in the coming years.
With lapse of almost one year since the first working session, the two sides signed the MoU based on outcome of their expert sessions.