The 7th night of 32nd Fajr Music Festival was devoted to joint performance of Tehran Symphony Orchestra and the Puccini Festival Orchestra from Italy, under the baton of maestros Shahrdad Rohani and Paolo Olmi.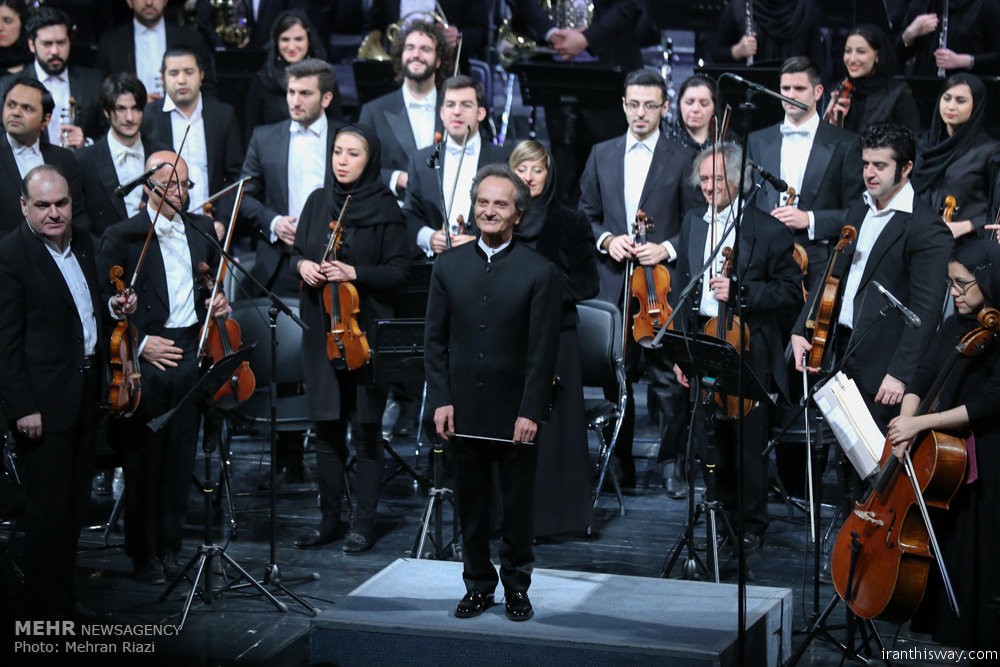 The Puccini Festival Orchestra, one of the most prestigious orchestras of Italy, came to Iran with conductor Paolo Olmi and 40 musicians to dazzle the audience gathered at Vahdat Hall on Thursday night with a breathtaking performance together with an Iranian ensemble from Tehran Symphony Orchestra under the baton of acclaimed Iranian maestro Shahrdad Rohani.
All tickets to this highly-anticipated performance were sold out within the first hour and the beautiful 750-seated hall of Vahdat became enameled for the next two hours with the powerful, soul-moving and heartfelt notes of violins, cellos, contrabasses, oboes and clarinets.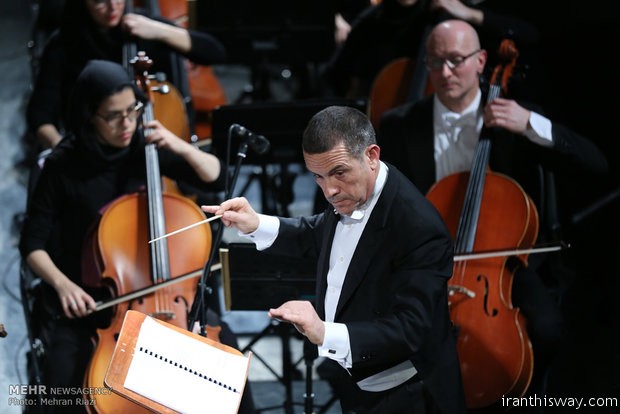 Before the orchestra began, Rohani greeted the audience with a sad smile and dedicated the night's performance to the injured and victims of Plasco building collapse in Tehran as well as those who lost their lives in an earthquake in Italy.
Following that, the audience all rose in respect to the national anthems of Iran and Italy played by the musicians on stage.
Rohani conducted the first three pieces including "William Tell" by Gioachino Rossini, his own composition "Persian Garden", and "The Capriccio Italien" by Pyotr Ilyich Tchaikovsky. After a short intermission, Beethoven's Symphony No. 5 was conducted flawlessly by Paolo Olmi.
The performance of "Persian Garden" had a special added beauty as Rohani invited Iranian violoncello solo performer Nasim Saad to bestow upon the ever hungry ears of the audience the soulful, plaintive notes of the wavering strings.
The piece ended with Rohani's remark on the stage, "this cultural exchange between Italian musicians and Tehran Symphony Orchestra shows just how much these two nations have in common."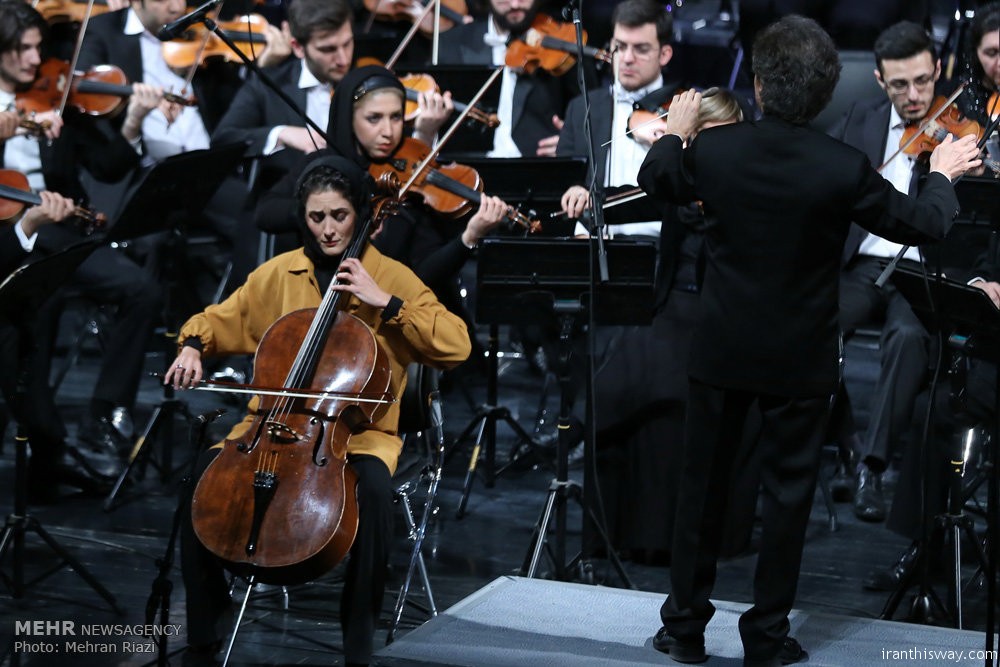 He went on to add, "all human beings have something in common. Just imagine how more beautiful this world could be if we focused on our similarities instead of differences. We are all the same and it does not matter where we have come from."
Rohani then revealed another surprise just before the intermission: "While the presence of two maestros at one concert is uncommon, I have to say that tonight we have actually three." He then went on to introduce Alberto Veronesi who conducted a short piece composed by legendary Italian opera composer Giacomo Puccini.
The performance was concluded by Beethoven's Symphony No. 5, performed in four consecutive sections, which gave Vahdat Hall a reverent, solemn air. Despite long, standing ovation, the performance was not followed by a bis, perhaps because the Italian ensemble needed to fly back to their country that night.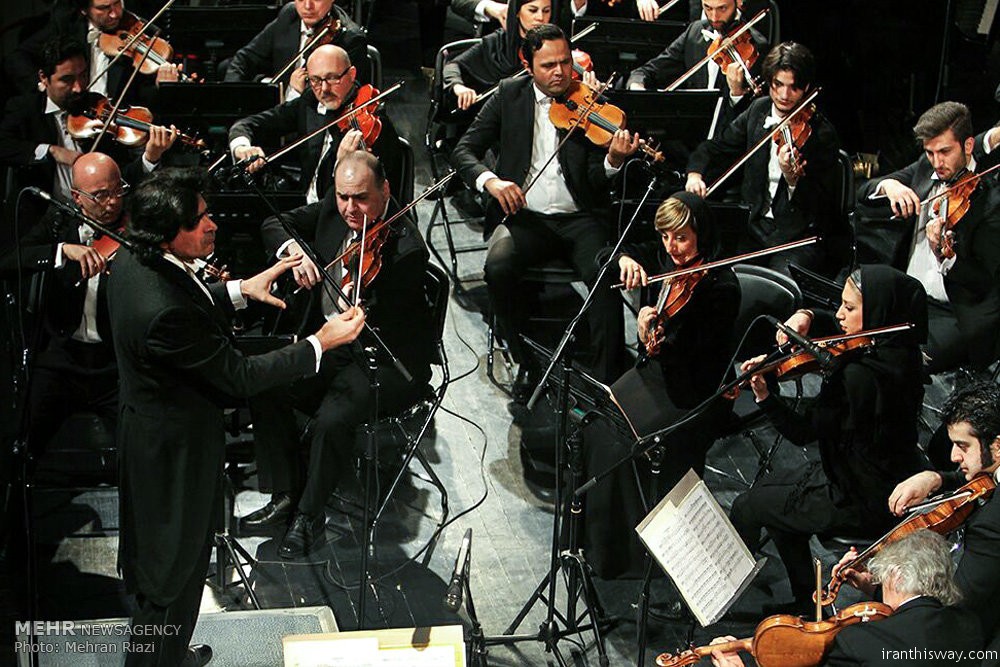 The composition of the musicians was so that each Italian musician was seated next to an Iranian in a symbolic move to stress on unity and commonality.
"The Italian musicians all spoke in praise of the Iranian musicians and admitted that they had not expected to witness such quality work from Tehran Symphony Orchestra," Rohani had said in an interview prior to the concert.
"In the short period of time that I was in Iran, I felt that Persian music has influenced European music," maestro Paolo Olmi said. "The kind of music that I heard at the restaurants in Iran sounded a lot like Italian pop music. The similarities are all there and this shows how different cultures can influence and be influenced by one another."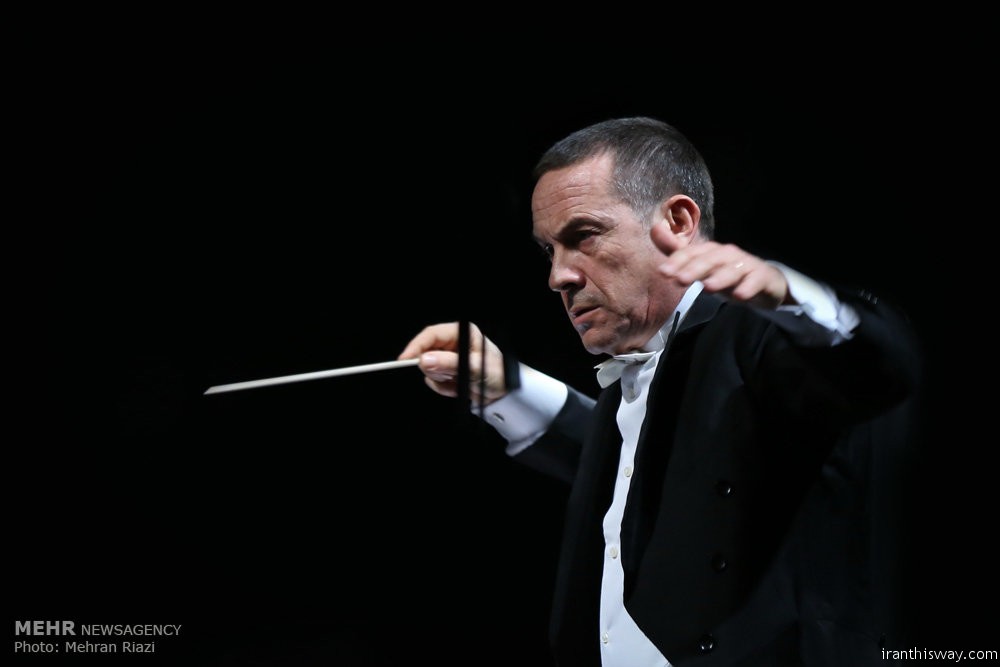 Olmi went on to add, "I have had a good experience with Iranian musicians of Tehran Symphony Orchestra. They are young, energetic and professional. I am actually looking forward to having Tehran Symphony Orchestra in Italy and introduce them to our people."
The 32nd Fajr International Music Festival, Iran's most reputable music event, was held from January 11-20, 2017 in various avenues in capital Tehran. The international section introduced to the Iranian audience music from Azerbaijan Republic, India, Lebanon, Spain, Portugal, France, Italy and Japan. Winners of this edition of the festival will be announced on Sunday.
Paolo Olmi began his career in 1979 as conductor of the Teatro Comunale di Bologna. He has directed operas and concerts all over the world (Tokyo, Berlin, Paris, Chicago, Madrid, Lisbon, Venice, Rome, Milan, Barcelona, Beijing, Shanghai). He has conducted almost all works by Giuseppe Verdi, Puccini, Mozart, Gaetano Donizetti, and Umberto Giordano. From 1990-1993, he was the Principal Conductor and Artistic Advisor of RAI National Symphony Orchestra. From 2006-2011, he was the musical director and artistic adviser of the Opera National de Nancy et de Lorraine in France. Since 2002, he is a visiting professor at the Guildhall School of Music and Drama in London./ Mehrnews