Horse jumping competition on the occasion of International Quds Day was held on Friday in Hamedan.
Hamadan is one of the western and mountainous cities of Iran, which is located in Hamedan province and along Elburz Mountains and is 360 kilometers away from southwest of Tehran. It is one of the historical-cultural and touristic cities of Iran that was built in Medes period at eight century B.C. Medes named this city Hegamataneh, and Hamadan is the new name (face) for Hegmataneh. It is also considered as the history and civilization capital of Iran.
Hamadan has a cold climate. The dialect of the Hamadanian people is Farsi with Hamadani accent.
Some of the most famous and greatest poets, writers, and scientists of the Hamadan province are Baba Tahir Hamadani, Eynolghazat Hamadani, Seyyed Jamal ol Din Asadabadi, Mirzadeh Eshghi, Mostafa Rahmandoost, and Ayatollah Mohammad Mofatteh.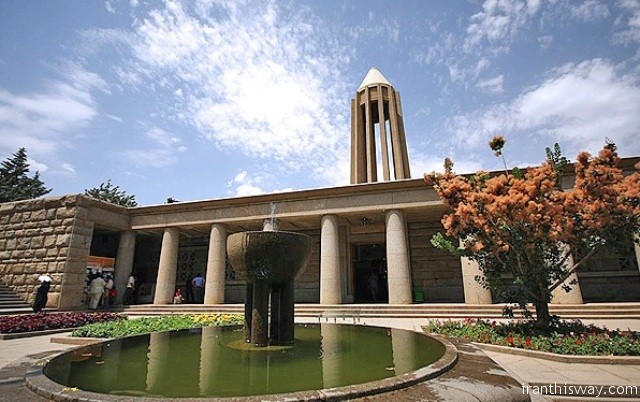 Historical Monuments
Tomb of Avicenna (Bu Ali Sina), famous Iranian scientist and medic
Tomb of Baba Tahir
Avicenna's Mausoleum
Alavian Dome
Tomb of Esther and Mordechai
Sacrifice Tower
Ancient Hegmataneh Hill
Ganjnameh Inscriptions
Stone Lion Sculpture
The Ancient Bazaar of Hamadan
The Grand Mosque of Hamadan
Mosque of the Prophet
Presbyterian Church
Raphael Church
Imam Khomeini Square
Dokhtar Castle (Ghez Ghale)
Mosala Hill
Khidr Tomb
Tomb of Aref Qazvini
Qalamdani Serra
Tourist Centers
Ganjnameh telecabin in Hamadan.
The follwoing are among the natural and tourist spots of Hamadan: Ganjnameh telecabin, Abbasabad hill, Ganjnameh waterfall, Tarrik Darreh ski resort, Mosafa gardens in Mount Alvand domain specially Abbasabad and Heydareh and Emamzadeh Kooh valleys, Ekbatan dam, People's park, Eram's garden and amusement park.
Religious Monuments and Locations
Emamzadeh Abdollah, Emamzadeh Yahya, Emamzadeh Hossein, Emamzadeh Ismail (Mountain Shrine), Emamzadeh Hadi ibn Ali, Emamzadeh Ahl ibn Ali, ancient tomb of Emamzadeh Azhar, ancient tomb of Emamzadeh Hood.
Museums and Cultural Centers
Hamadan's natural history museum, Hegmataneh museum, Avicenna shrine museum, Sacred Defense museum.
Hamadan's Souvenirs
Pottery and ceramics, leather and leather products, carpets, Rugs and Jajims, Angosht Pich, spicy garlic, Sap milk, Maviz, grape sap, shortbread, yellow halwa, walnuts, pistachio shells jam, Dartol, Baslogh, Sheermal, mixture potion, rose jam, sweetbreads, and Kak.
Handcrafts
Handcrafts are rich with leather crafts, carpet weaving, and rug weaving. The role of Lalejin is of special importance as the major source of pottery and ceramics in Iran. Other active handcrafts in Hamadan include:
Wood carving
Wood inlaying
Coppersmithing and etching on copper
Jewelry, silver filigree, goldbeating, and silver beating and enamelling