Iran signed a multibillion dollar deal on Monday with French oil giant Total and Chinese state oil company CNPC to further develop the country's giant South Pars Gas Field in cooperation with Iran's Petropars.
The first major Western energy investment since sanctions against Tehran were lifted will cost up to $5 billion, with production expected to start within 40 months, an Oil Ministry source said, Reuters reported.
The US and other world powers lifted sanctions after the country pledged to roll back its nuclear program.
With the 20-year deal, Total is now returning to Iran, where it first began operating in the 1990s. Total CEO Patrick Pouyanné said in a statement on Monday that the investment would be "in strict compliance with applicable national and international laws".
The US still has restrictions in place that block most American companies from investing in Iran. And some Western companies have been reluctant to jump in since Iran still faces sanctions that prevent firms from transacting with Iran in US dollars.
Total estimates the first phase of the project will cost around $2 billion. It is taking a 50.1 percent stake in the South Pars project. CNPC will own 30 percent while the other 19.9 percent will go to Petropars.
The project will have a production capacity of two billion cubic feet per day, or 400,000 barrels of oil equivalent per day including condensate, according to Total.
Iran's Oil Ministry predicts the project will eventually produce gas products worth $54 billion based on current prices. The gas will start flowing into the Iranian market in 2021.
Iran has significantly ramped up its energy production since the sanctions were relaxed.
Figures from OPEC show Iran has boosted its daily crude oil production by more than 33 percent since 2015.
Iran sits on nine percent of the world's proven oil reserves and 18 percent of the planet's natural gas, according to data from BP's Statistical Review of World Energy.
Iran and Qatar share the South Pars field.
Iran has signed a flurry of deals with Western companies over the past year since the easing of international sanctions on Tehran after an accord was reached over its nuclear program.
Iran needs foreign investment to repair and upgrade its oil and gas fields. It also seeks the transfer of technology to its oil industry after a decade of sanctions.
Iran has named 34 companies from over a dozen countries as being eligible to bid for oil and gas projects using the new, less restrictive contract model.
The firms include Shell, France's Total, Italy's Eni, Malaysia's Petronas and Russia's Gazprom and Lukoil, as well as companies from China, Austria, Japan and other countries.
Russia's Zarubezhneft signed an MoU to conduct feasibility studies on two joint fields in the west of the country.
Norway's International Aker Solutions Company signed an MoU to modernize Iran's oil industry.
In May 2016, Austria's OMV signed an MoU for projects in the Zagros area in western Iran and the Fars field in the south.
South Korean Daewoo Engineering and Construction (Daewoo E&C) signed an MoU to construct an oil refinery in Bandar Jask, on the southern coast of Iran.
Italy's Saipem signed MoUs to cooperate on pipeline projects, upgrading of refineries and development of Tous gas field in the northeastern province of Khorasan Razavi.
Norwegian oil and gas company DNO said it was the second Western energy company after Total to sign a deal with Iran under which it agreed to study the development of the Changuleh oilfield in western Iran.
Lukoil, Russia's second biggest oil producer, hopes to reach a decision on developing two new oilfields in Iran.
Germany's Siemens AG signed an MoU in May to overhaul equipment and facilities at Iran's oil operations and refineries.
BASF's Wintershall oil and gas exploration subsidiary signed an MoU with the National Iranian Oil Company in April 2016.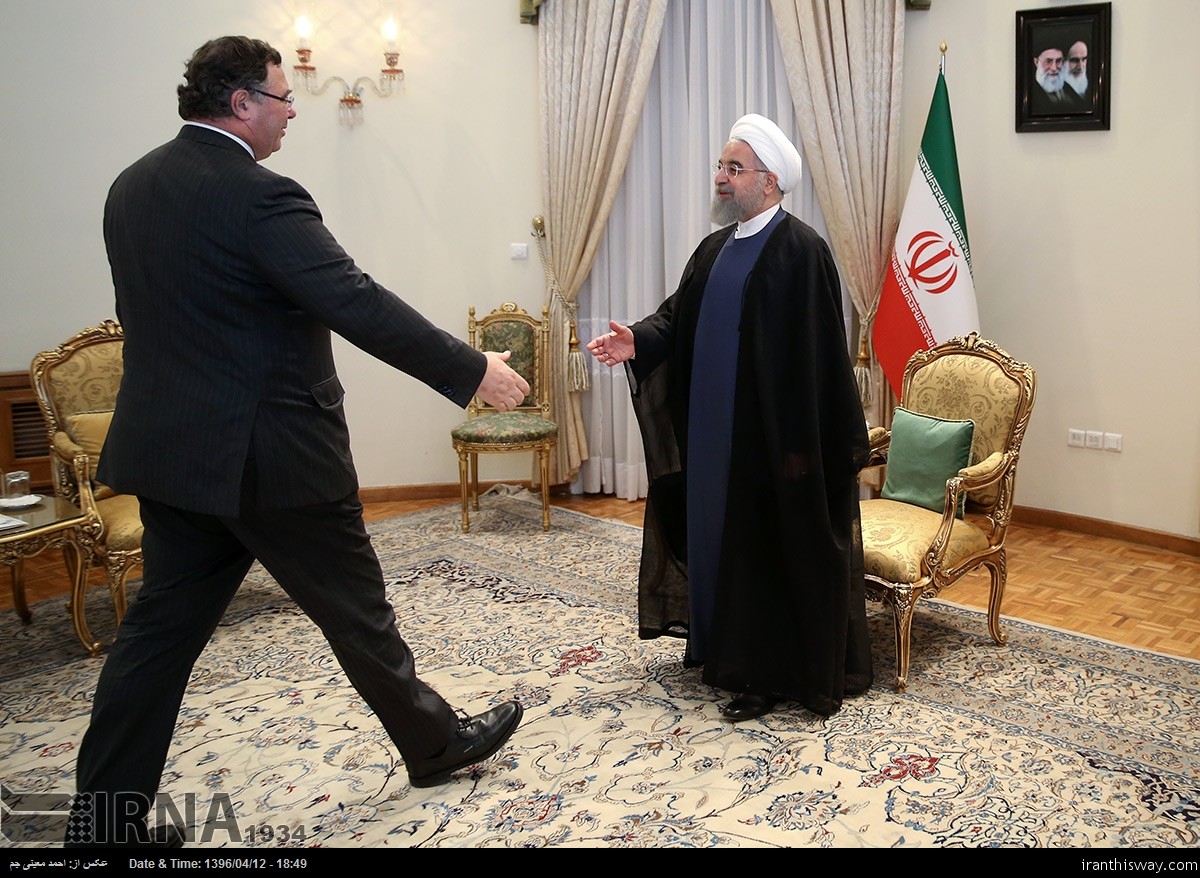 President Rouhani:
Developing South Pars Phase 11 not only an economic contract, but also a scientific, technological, management cooperation
President Rouhani met with the Chairman and CEO of France's Total company and described South Pars region as an important centre for developing international cooperation with Iran in the field of energy-technology.
In the meeting that was held on Monday in Tehran, Dr Rouhani told Total's Patrick Pouyanné: "Due to the good potentials and hard-working young men in Iran, the contract of developing Phase 11 of South Pars is not only an economic one, but also a scientific, technological and management cooperation".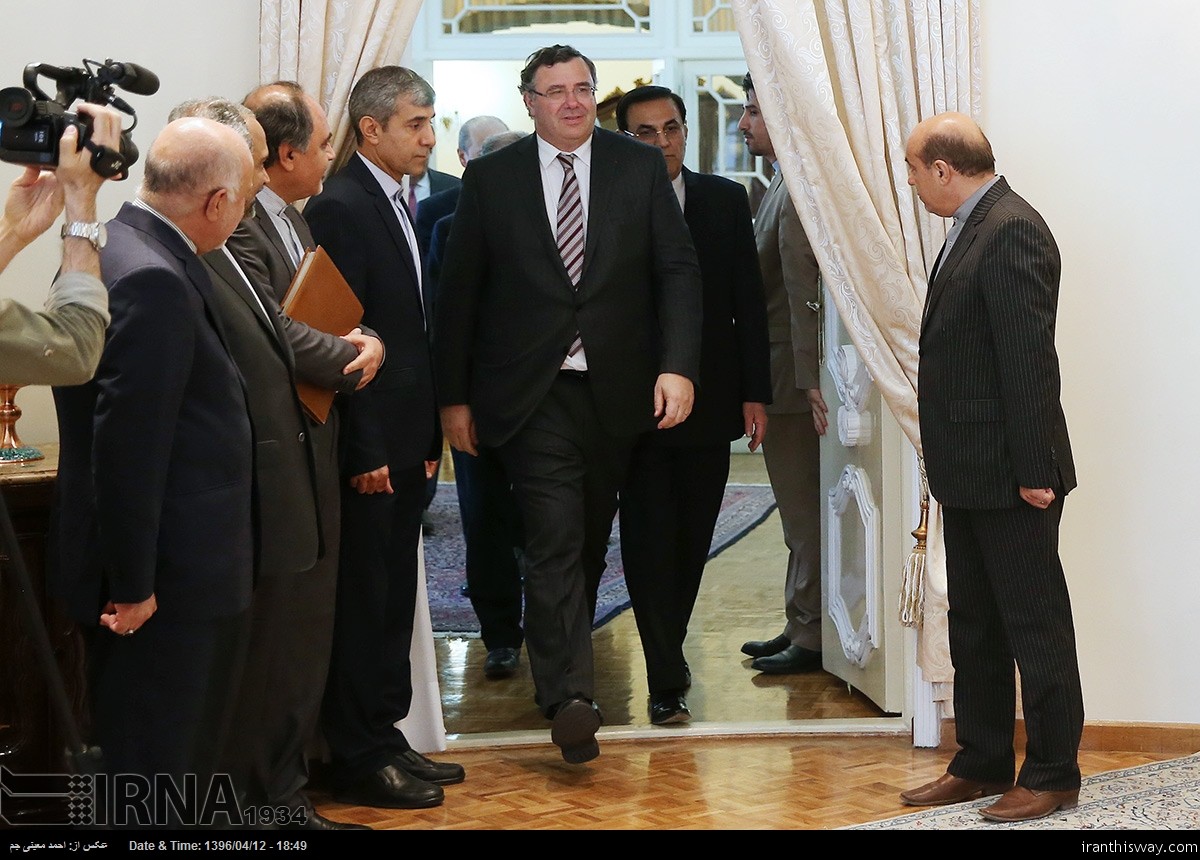 Total CEO: We seek a long-term cooperation with Iran
"The Islamic Republic of Iran and France have always had good relations and cooperation with each other," he continued saying.
Referring to France's position in economy and energy technology, he added: "The signing and execution of this contract will be a significant step in development of economic and technological cooperation between the two countries".
Stating that the 11th administration has attempted to finalise the Joint Comprehensive Plan of Action (JCPOA) to clear the path for economic cooperation between major companies and Iran, the President said: "Fortunately, this political will from the Iranian side and among P5+1 countries paved the way for this agreements with Total".
President also referred to his Europe and France visit after the signing of JCPOA, adding: "In Paris, there was a good political will among the authorities of both countries to develop cooperation and important agreements were signed between the two countries to deepen ties and cooperation".
"It is our policy to cooperate with major companies such as Total," said Dr Rouhani, adding: "Currently, projects in gas and oil worth roughly $200bn are ready to be invested on and major foreign companies can cooperate in these projects".
"We must work hard to achieve peace and stability in the region serving economic progress and development of the region, because scientific and developmental cooperation can help us combat ignorance and poverty as the bedrocks of terrorism expansion," he continued.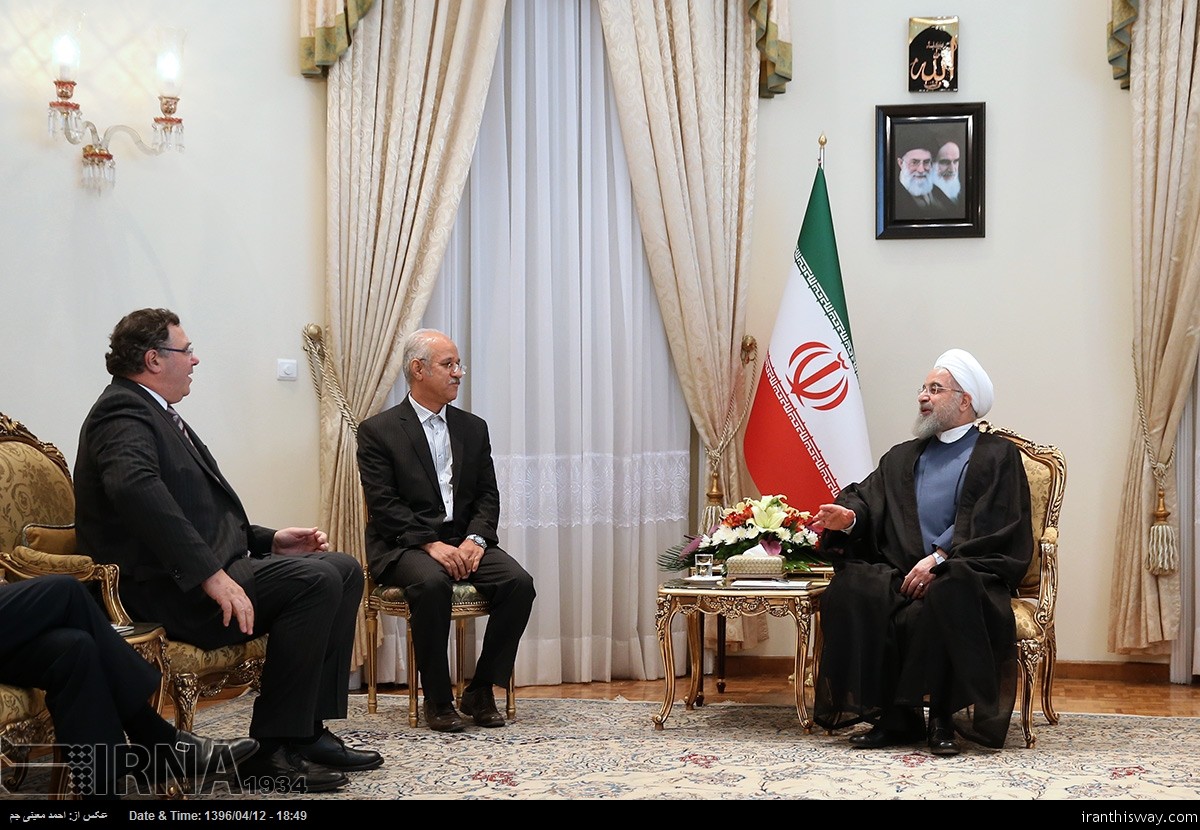 The President also expressed hope that with the new agreements and cooperation in the field of gas, oil and petrochemicals, Iran and France take considerable steps in developing ties.
During the meeting, the Chairman and CEO of France's Total company Patrick Pouyanné also expressed happiness over meeting the President of the Islamic Republic of Iran and described the contract as a very important one, saying: "Today, we are very happy that we could finalise and execute the contract with the help of the authorities of the two countries".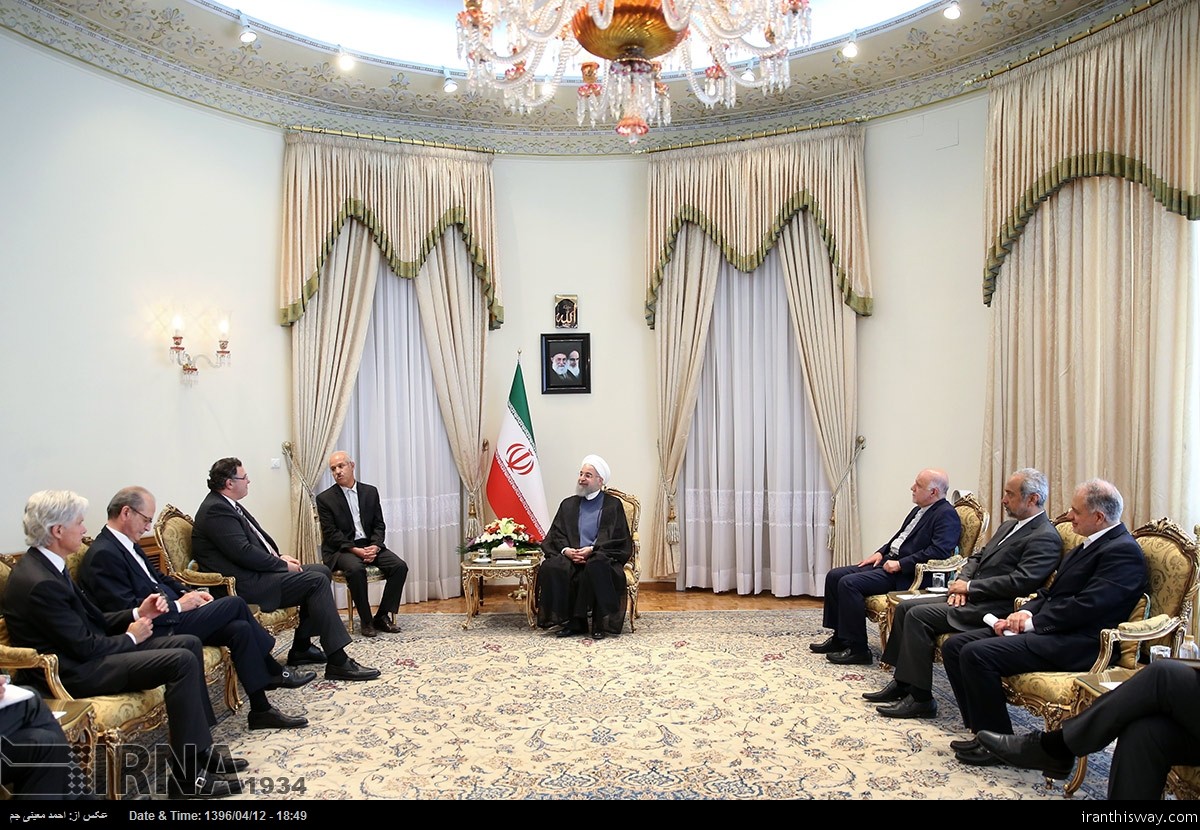 Stating that the JCPOA agreement has paved the way for further development of relations between European countries and Iran, he said: "We are optimistic about our cooperation with Iranian companies".
"We seek a long-term cooperation with Iran," continued Pouyanné.