By Karen Gilchrist: Iran signed a $5-billion deal with a consortium led by French oil company Total on Monday to develop the giant South Pars Gas Field — the world's largest natural gas field.
The deal is the Islamic Republic's first with a European oil company in more than a decade, marking a major milestone for a country whose standing as an international trade partner has hung in the balance ever since it was slapped with sanctions in 2006 amid concerns that it was developing nuclear weapons.
Total has taken a 50.1 percent interest in the South Pars project, and alongside state-owned China National Petroleum Corporation, which holds 30 percent, and Iran's Petropars (19.9 percent), will begin producing gas for the Iranian market from 2021.
Though the deal has been a slow burn, coming some 18 months after EU sanctions against the Middle Eastern nation were lifted, Iran will be hoping that it marks a new era of investor confidence and a particular boon for its dwindling oil production.
"Total's decision to sign the South Pars 11 contract is a cautiously positive sign for foreign investment in Iran's upstream," Richard Mallinson, geopolitical analyst at Energy Aspects, told CNBC via email on Monday.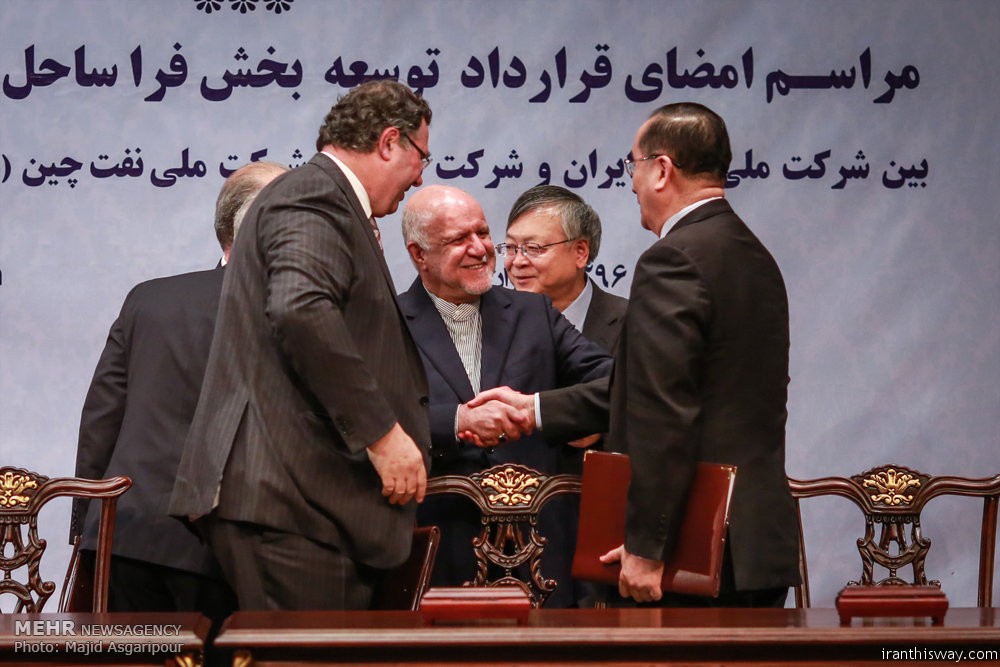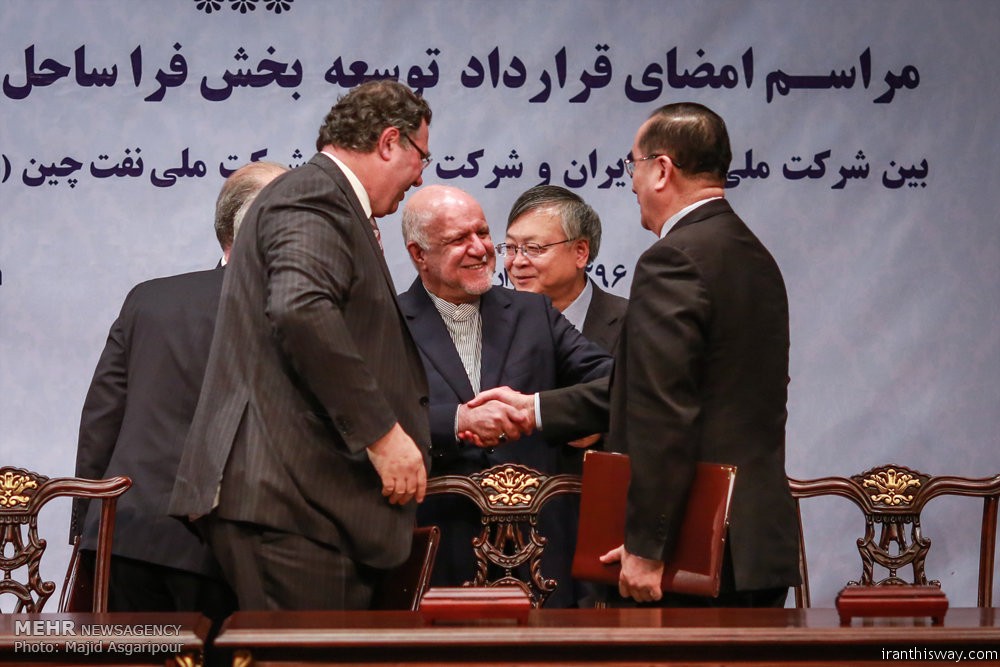 Who else is ready to invest in Iran?
Already, India, one of Iran's most steadfast trading partners, on Monday announced that a consortium of domestic businesses would offer up to $11 billion to develop another of Iran's natural gas fields, Farzad-B field, and create the infrastructure to export the fuel, Bloomberg reported, quoting Narendra Kumar Verma, managing director of the overseas investment unit of India's largest explorer, Oil and Natural Gas Corp. (ONGC). / Farzad B gas field, Persian Gulf
Iran is the second-largest supplier of crude oil to India, and, as a result, India is one of the largest foreign investors in Iran's oil and gas industry. However, fraught diplomatic relations between Iran and other states have made it a difficult relationship to uphold.
Under US sanctions, which were reinforced last month, India has been unable to trade with Iran using the dollar — the world's premier reserve currency — and had to defer payments or revert to payments in rupees and, more recently, euros.
Iran has the world's largest natural gas reserves and the fourth-largest oil reserves, according to the US Energy Information Administration. This translates to 10 percent of the world's crude oil reserves and 13 percent of OPEC's.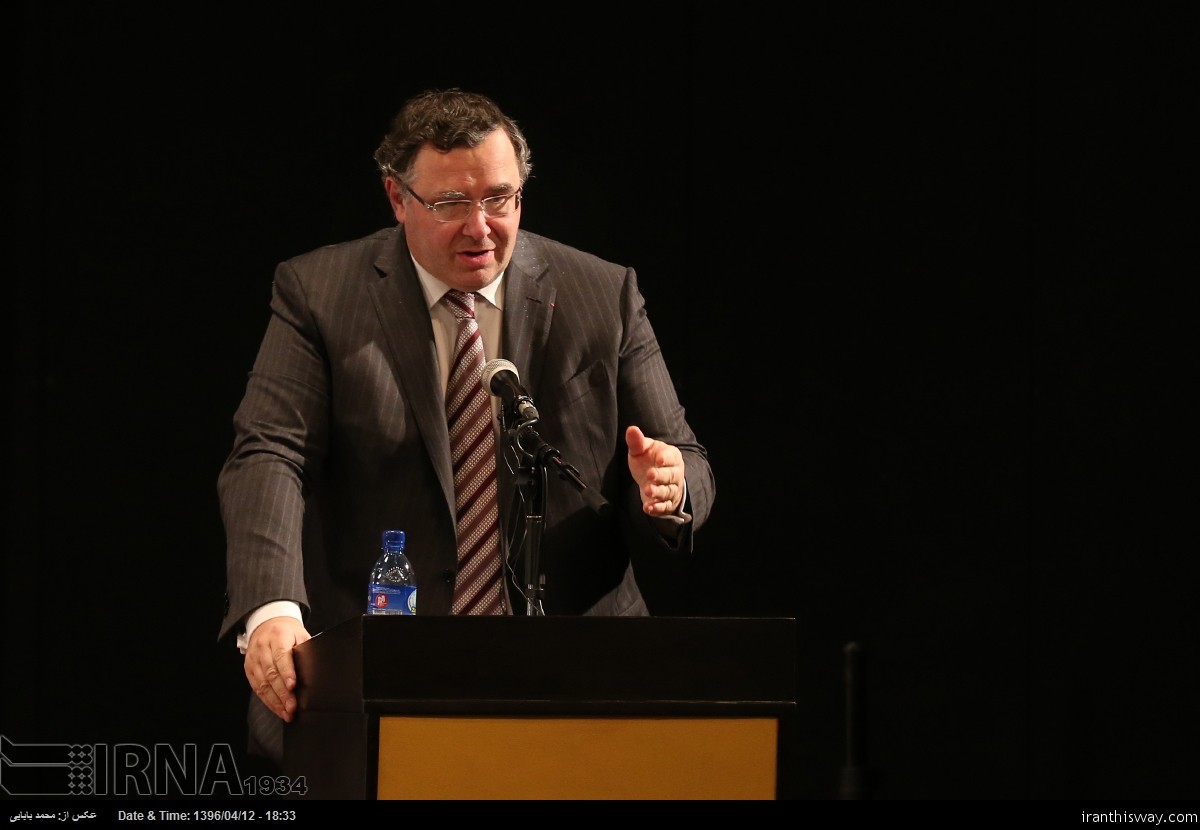 Why is Total doing the deal now?
Total was previously one of the biggest investors in Iran before sanctions were imposed. Though the deal was laid out last year, the group has been awaiting clarity on the Trump administration's stance on sanctions.
During campaigning, President Donald Trump pledged to 'dismantle' the 2015 nuclear agreement, which aimed to reduce sanctions, though has not yet followed up on it.
Total has so far only committed to an initial $1 billion investment, citing continued risks. The stock was up 1.78 percent when the deal was signed Monday.
Though the investment will help revive Iran's antiquated energy sector, which has borne the brunt of years of under-investment into the country, it will be purely domestically focused.
It is likely to have less of an impact on the wider international markets, which have been struggling to balance output since a supply glut saw prices plummet in early 2015.
Brent prices were lower by 0.06 percent in Monday afternoon at $48.75 per barrel while US crude was up 0.09 percent at $46.08 per barrel.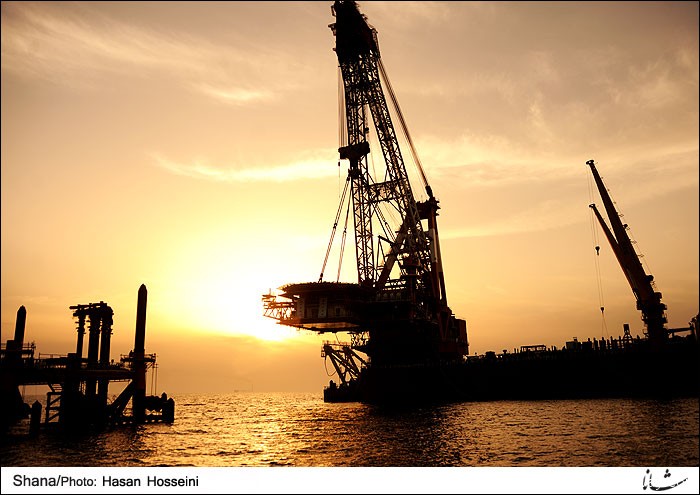 Lack of new deals holding back growth
Indeed, while companies including Royal Dutch Shell and Italy's Eni have signed provisional agreements with Iran, according to the FT, the path ahead to recovering Iran's energy sector looks far from smooth.
"Other developments are not so positive," said Mallinson, citing Azadegan, another Iranian oilfield project which has suffered continued delays amid uncertainties over Iran's trading future.
"The tender for the Azadegan oilfield was supposed to be imminent but was then pushed back by three or four months to give foreign companies more time for analysis. This suggests that the major firms that Tehran really wants to attract are largely not ready to commit to Iran deals.
"Currently Iran's oil production has flat-lined and each new delay to the return of foreign investors pushes back the timeline for further growth in output," Mallinson added.