In the latest update by Iranian Health Ministry on Thursday no COVID-related deaths were reported over the past 24 hours.
It is the first zero daily death toll since the outbreak of the pandemic in the country in early 2020.
Iran's Health Minister Bahram Einollahi issued a message in which he hailed the zero daily COVID death toll after the country's 2 year and 100 days of fight against the pandemic.
Bahram Einollahi said that Iran witnessed its first day without any COVID-related deaths while high death tolls are reported in the United States and Europe.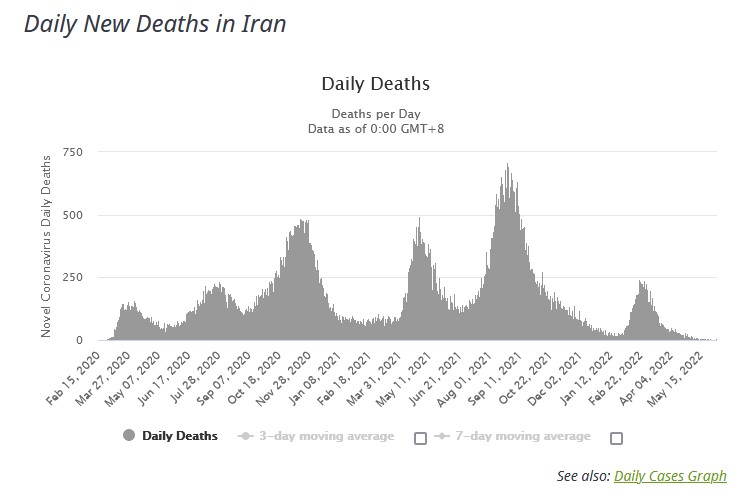 He congratulated Supreme Leader of the Islamic Revolution Ayatollah Seyyed Ali Khamenei and the whole Iranian nation on this achievement.
He called on the Iranian nation to observe the health protocols until the country celebrates the end of the pandemic.
Coronavirus figures kept declining in Iran thanks to the government's mass vaccination campaign. So far, 64,550,043 people have received the first dose of the COVID vaccine, 57,866,919 people the second dose and 27,562,033 people the third dose, and the total number of vaccines injected in the country reached 149,978,995 doses.
Coronavirus and US Sanction against IRAN
Iran has been battling one of the deadliest outbreaks in the world, with the crippling sanctions slapped on the country by the US significantly hampering the country's efforts to rein in the spread of the virus and provide vaccines from other countries.
The sanctions were imposed by the administration of former President Donald Trump under a "maximum pressure" campaign and have been maintained by the current administration of Joe Biden, which has refused to soften the bans to ease pandemic-related hardship on Iranians.
Iranian officials have described the sanctions as "economic terrorism" and "medical terrorism" for their deadly impact on ordinary people.
The bans, however, backfired and helped the Islamic Republic rely on its own medical and pharmaceutical capacities to develop domestically-manufactured anti-COVID vaccine, so much so that the country's health experts rose through the ranks and promoted Iran as one of the few exporters of the coronavirus jabs.