The National Iranian South Oil Company has signed its first non-disclosure agreement (NDA) with a consortium of international companies, known as Pergas, for carrying out studies over two oilfields in Iran.
The consortium comprises 11 European, Canadian and Asian firms as well as the Sharif University of Technology and has signed the NDA for holding studies on Karanj (Asmari, Pabdeh, and Khami oil deposits) and Shadegan oilfields (Asmari and Bangestan reserves).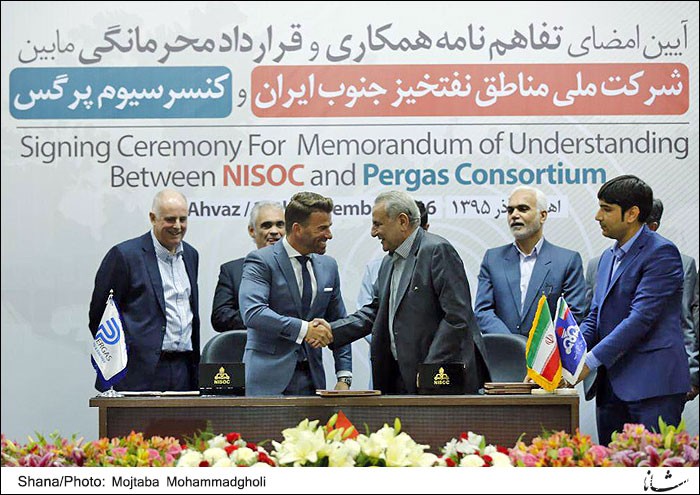 Based on the deal, the consortium will have 6 months to hand over the result of its studies on the fields to the NISOC. Pergas may submit its proposal for development of the fields sooner if it is ready.
Minister of Petroleum Bijan Zanganeh has spent a long time on investigation of the framework of NISOC's new framework of oil contracts.
Over 60 companies are currently in talks with the NISOC for cooperation with the company under the new framework of the contracts.
The deals consider development of four fields of Parsi, Karanj, Rag Sefid and Shadegan, including nine oil reserves, are specified for development based on the contract after announcement and confirmation of the Minister of Petroleum.
The nine reserves include Asmari, Pabdeh and Khami in Karanj field, three reserves in Asmari, Bangestan and Khami in Rag Sefid field, Asmari field in Parsi field and two reserves of Asmari and Bangestan in Shadegan field.
The four fields were selected for the purpose due to the recovery coefficient, enhanced recovery and integration of the reserves.
NISOC contracts are part of a basket of contracts that is operational in nature, while its purpose is development of reserves and using enhanced recovery methods./Shana