Alphaliner has listed the Islamic Republic of Iran Shipping Line (IRISL) as the 20th operator among the top 100 container lines, with a total capacity of 99,867 TEUs over 47 ships.
Information from the corporate website indicates tonnage ranging from 1,000 to 6,500 TEUs, but it appears that most of its current fleet is under 5,000 TEUs, according to an article recently published by the American Journal of Transportation.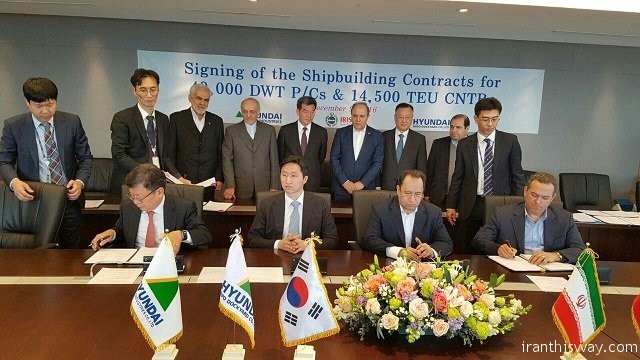 Negotiations with Hyundai
IRISL's operating portfolio is modest by today's standards, but all that is about to change.
On December 9, they reached an agreement with Hyundai Heavy Industries to build 10 ultra large vessels at Hyundai's Ulsan yards in South Korea. Stretching 2.5 miles along Mipo Bay, Ulsan is the world's largest shipbuilding operation. When the 'new build' frenzy began to cool between 2008 and 2010, shipyards were left holding the bag on unfulfilled orders.
Delivery dates slipped and contract prices were renegotiated leaving shipyards in a slump that continues today.
Hyundai began negotiations on Iranian ships in 2005, but plans were sidetracked as the world's economy weakened. Finalizing this order will breathe new life into Hyundai.
The Ulsan yard will build six chemical tankers and four ultra large container vessels each at 49,000 DWT with a capacity of 14,500 TEUs. Delivery of the first of these mega container ships is scheduled for 2018. An additional two ULVs may also be in the works upon the completion of the initial order.
The total for tankers and container ships is said to be worth $2.4 billion.
Challenges, opportunities
As a niche player with limited capacity, IRISL had adequately filled the country's maritime needs and had additional container slots to sell on the open market. Mega vessels will require more aggressive marketing and greater sophistication in handling at load and discharge centers. Some of this expertise will be provided by CMA-CGM that has entered into an operating agreement with the line. This agreement comes on the heels of more open trade, as nuclear sanctions are lifted and world commerce once again flows through Iranian ports.
Several carriers, including Evergreen and MSC, reopened calls to Iran this year with the potential for United Arab and Maersk to enter the market after January. Renewed trade with Europe will commence with the further loosening of sanctions.
IRISL will surely capitalize on their expanding container fleet and slot charter agreements with their carrier partners.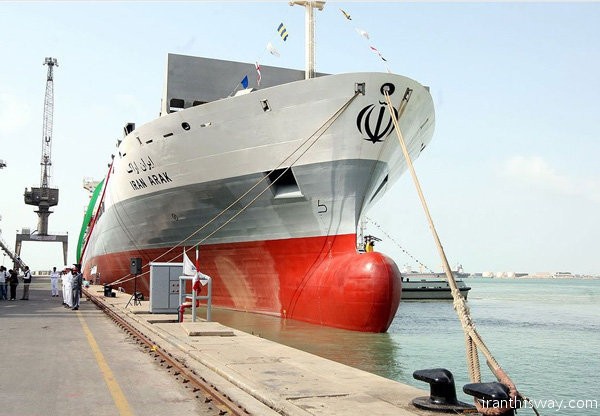 Capital for investment
The United States paid Iran several billion dollars in frozen assets as interest against a failed 1979 arms deal. Payments began after the UN Security Council lifted the nuclear sanctions, which triggered Iran's maritime development.
As IRISL began to examine options for fleet development and trade expansion, world markets opened up and international partners such as Hyundai and CMA-CGM came on board.
Funding for construction and development of Iran's maritime interests came along with it.
Ambitious plans
Managing Director of the Iran Shipbuilding and Offshore Industries Complex Company (ISOICO) Hamid Rezaeian-Asl announced an agreement with Hyundai Heavy Industries for financing and technical knowhow at their facility near Bandar Abbas.
Opening in 2006, the ISOICO facility sits on 1,100 hectares of land with a 380-hectare marine basin. Initial projects included design and construction of several passenger liners and feeder-max container ships.
The yard has the capacity to build and repair larger vessels and Hyundai will advance Iran's ability to produce VLCC and ULCC class container ships.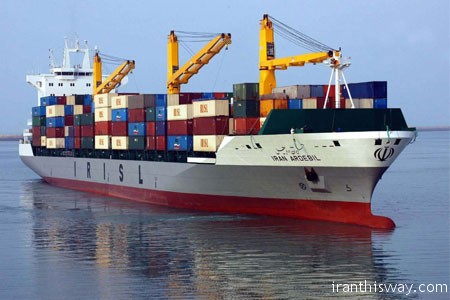 A bright future
With the infusion of money and expertise from world sources, IRISL has announced plans to become a top 10 ranked Alphaliner carrier by 2020.
China has also been invited to visit the ISOICO shipyard and last year there were even negotiations for the Chinese to build 18,000 TEU ships for the line.
The future of Iran's maritime interests is extremely bright. Of course, having the money to invest in the expansion of national fleet and shipbuilding facilities is crucial.
The world seems to be at Iran's doorstep; even the United States did $152.4 million in exports this year.
As IRISL expands port calls to Europe and increases trade routes to Asia and Africa, whether Iranian ships will dock at US ports any time soon remains to be seen.