Iran was crowned AFC Beach Soccer Championship Malaysia 2017 champion on Saturday after beating the UAE 7-2 in Kuala Terengganu.
#AFCBeachSoccer2017
M23 United Arab Emirates vs Islamic Republic of Iran – News Report
The UAE's Haitham Mohamed opened the match with an impressive effort which Iran goalkeeper Peyman Hosseini saved well, but it was to be Iran which would draw first blood, Moslem Mesigar tapping home from close range to hand his side an early lead, the-afc.com reported.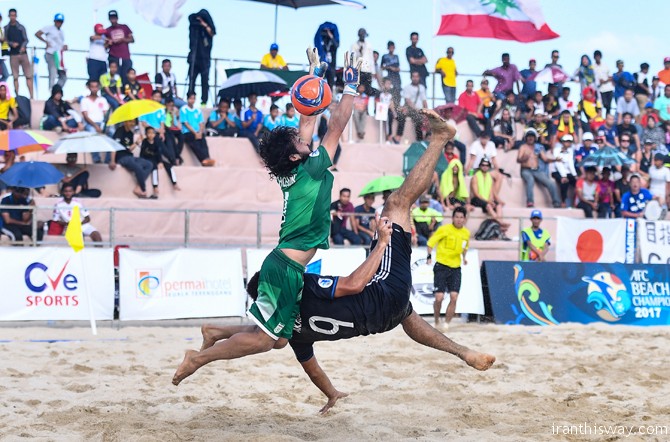 Clearly, boosted by its goal, Iran immediately doubled its advantage through Hosseini's impressive strike, before Iran skipper Mohammad Ahmadzadeh fired a volley, just inches wide.
With the UAE failing to make an impression, Iran struck again as Mohammad-Ali Mokhtari's penalty rounded off a fine first period for the Iranians.
Kamal Ali then went close with a volley as the Emiratis tried to rally. However, worse was to come for them as Mesigar's cool header found the net with keeper Humaid Jamal rooted to the spot.
It was to be Jamal who eventually dragged the UAE back into the game with an impressive finish four minutes from time, a brief glimmer of hope that shone even brighter when Haitham Mohamed scored following neat approach play.
It was, however, not to be for the UAE, as an accurate Ali Nazem free-kick, followed by Amir Akbari's volley and a Mokhtari penalty sealed a win – and the title – for the Iranians.
President praise
The Asian Football Confederation (AFC) President Shaikh Salman bin Ebrahim Al Khalifa congratulated Iran on capturing the Asian title.
In the earlier third and fourth place match, Japan edged out Lebanon 6-3 to secure its spot, alongside Iran and the UAE, as Asia's three representatives at the upcoming FIFA Beach Soccer World Cup 2017, which will be played in Nassau, the capital of the Bahamas, from April 27 to May 7, 2017.
Shaikh Salman said, "I would like to congratulate Islamic Republic Iran who were a formidable force from start to finish. UAE should also be praised for their brilliant efforts in a captivating final.
"Along with Japan, Asia has three teams of outstanding quality and I am confident that they will do the continent proud in the Bahamas."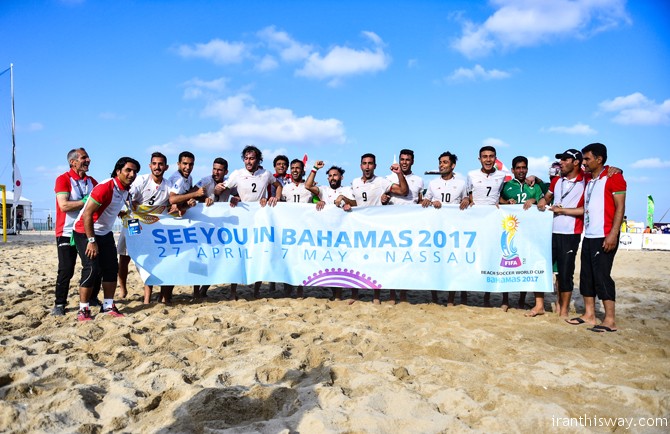 The AFC President also paid tribute to Terengganu, Malaysia and the Local Organizing Committee for hosting a memorable tournament. "On behalf of the Asian football family, I must convey my appreciation to the Terengganu State Sports Council and the Terengganu State Government for their warm hospitality and displaying excellence in organizing a truly exceptional competition.
"This is the first time the tournament was hosted in Southeast Asia and it once again represents the AFC's Vision and Mission to better engage with passionate football fans across the continent."
The newly-crowned champion of Asia has been drawn to face Italy, Mexico and Nigeria in Group B at the FIFA Beach Soccer World Cup 2017. Meanwhile, runner-up the UAE is in Group C, where it will compete against Panama, Paraguay and Portugal. Third-placed Japan will feature in Group D comprising Brazil, Poland and Tahiti at the Bahamas Beach Stadium in Nassau.
Iran will open Asia's campaign in the Bahamas against Mexico on April 27, 3.30 p.m. (local time). Japan and the UAE will begin their conquests the following day on April 28 against Poland and Paraguay at 3.30 p.m. and 8 p.m. (local time) respectively.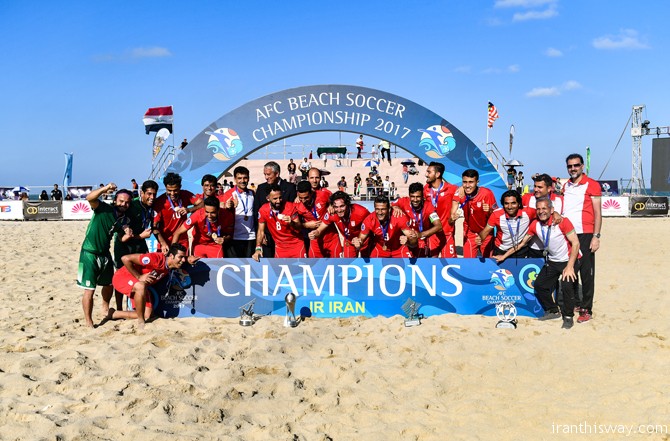 Physical fitness, Iran's trump card
Following the final showdown, Iran head coach Mohammad Hossein Mirshamsi praised the performance of his players, saying, "We were ready for this game and we knew that the UAE were tired as it was a tough semifinal game against Lebanon for them.
"I think today's game was easy for us. The most important advantage that we had over the UAE today was physical fitness. We were thankful for that.
"Looking back, I think our most difficult match in this competition was our encounter against Japan in the semifinals, but we analyzed the UAE's games and I believe we were ahead of them in terms of tactics and technique."
Mirshami believed Asia is now well placed to challenge for honors come April's global extravaganza in the Bahamas.
"It is good that Iran, the UAE and Japan are all representing Asia [at the FIFA Beach Soccer World Cup]," he said.
"I believe we now have a strong Asian presence at the World Cup."