Iran 's NIOC deputy head, while disavowing claims on disqualification of Russian oil giants, said the Iranian company will soon publish a second list of authorized applicants for investment.
Deputy Head of NIOC for Development and Engineering Affairs Gholamreza Manouchehri said "a list recently published by National Iranian Oil Company was relevant to applicants from Spain, Germany, Italy, Austria, Japan, China and South Korea which had been qualified in Pre-Qualified Iran's Oil and Gas Upstream Projects Tender Round."
"Names of Lukoil and Gazprom from Russia were on the list," highlighted the official asserting that a second list of qualified foreign companies will be soon released.
Manouchehri, while estimating that Russian firms, whose name were among qualified candidates, will be present in the second, underlined that NIOC has inked Memoranda of Understanding (MoUs) with Russia's Zarubezhneft and Tatneft both of whom were absent in the first published list.
"NIOC must have approved of all firms with which a cooperation agreement has been inked," noted the official.
He further maintained that claims on disqualification of Russian firms reiterated that Iran welcomed cooperation with credible Russian parties who held new technologies.
National Iranian Oil Company has so far sealed MoUs with seven Russian oil giants for development projects or boosting recovery factor in various oil and gas fields.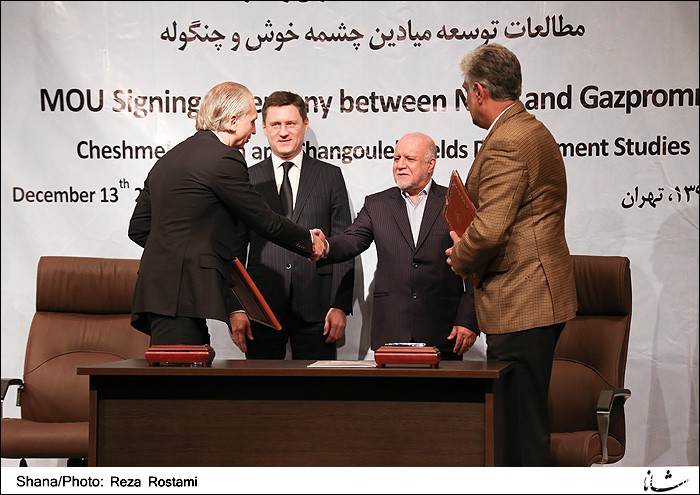 Accordingly, research and development MoUs have been signed with Russian firms like Lukoil, Tatneft, Zarubezhneft and Gazprom for expansion of seven Iranian oilfields including Mansouri, Ab Teimour, Aban, West Paydar, Dehloran, Cheshmeh Khoshk and Chenguleh.
Accordingly, Russian firms enjoy the highest rate of cooperation in upstream sector of Iran's oil and gas industry as compared with Asian or European companies.
Nevertheless, names of Russneft, Tatneft and Zarubezhneft were missing on the recently-published list by NIOC giving rise to hypotheses that the three Russian oil giants had been disqualified.